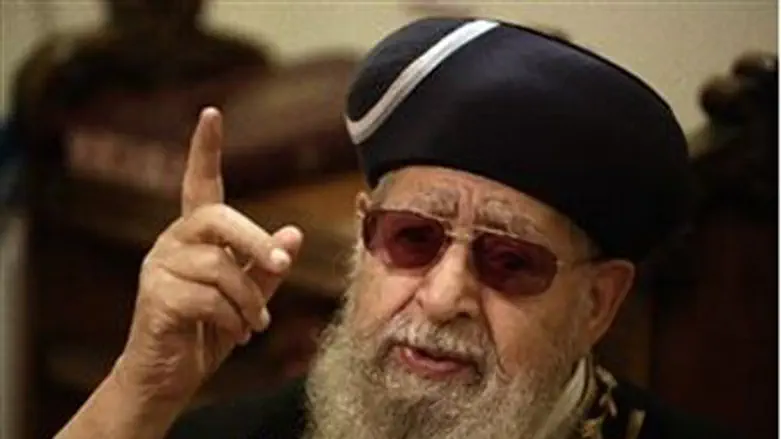 Rabbi Ovadia Yosef
Israel news photo: Flash 90
While some hareidi religious leaders have the reputation of being dismissive of the efforts of the IDF – and of advocating that as many young people as possible take on full-time yeshiva study instead of serving – Rabbi Ovadia Yosef said on Wednesday that without the IDF's efforts to defend the country and people of Israel, the notion of a yeshiva as it is understood in Israel today could not exist.
Rabbi Yosef, former Chief Rabbi and prolific author of dozens of books on Jewish law and philosophy, is considered the dean of the Sephardic Hareidi world, and is seen as one of the world's leading hareidi rabbinical leaders.
On Wednesday, Rabbi Yosef led prayers at his Har Nof home as he does daily, and offered a special remembrance prayer for fallen IDF soldiers, in commemoration of Memorial Day, which Israel is commemorating Wednesday.
As he began the prayer, Rabbi Yosef, according to a website that documents his speeches and lectures, said that "G-d should bless the IDF soldiers who stand on guard for our benefit. Without them, we could not learn Torah. We would be under the thumb of the evil persecutors who harm the Jewish people. G-d should preserve them and keep them alive and well, as it is He who is fighting against our enemies."