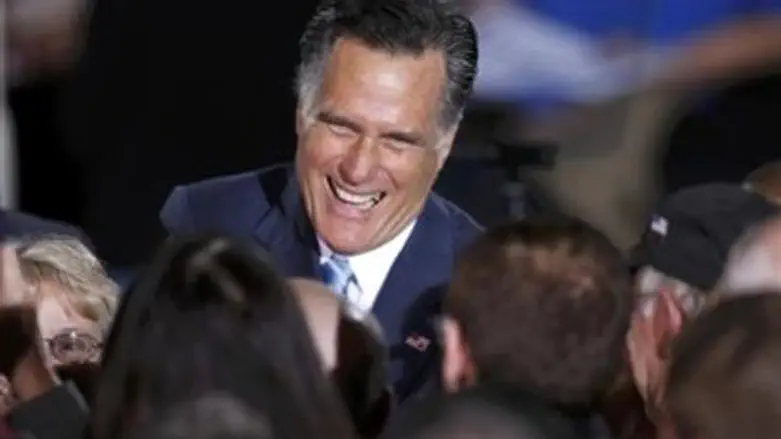 Romney greet supporters in New Hampshire
Reuters
Mitt Romney's five more victories in Republican party primaries Tuesday solidify his leadership of the GOP as he launches a campaign against Obama - even before his nomination.
He won the elections in New York, Rhode Island, Connecticut, Pennsylvania and Delaware, giving him almost the number of delegates needed to clinch the nomination as the Republican party's presidential candidate at the GOP convention this summer.
His speeches are those of a man running against President Barack Obama and not against contenders for the Republican nomination.
"Over the last three and a half years, we have seen hopes and dreams diminished by false promises and weak leadership. Everywhere I go, Americans are tired of being tired," he told supporters this week.
The Obama administration also has assumed Romney will be its foe in the November elections. Ben LaBolt, the president's press secretary, told CNN, "The fact is a better title for Gov. Romney's speech tonight, [rather] than 'A Better America,' should have been 'Back to the Future,' because he's proposing the same economic policies that got us into the economic crisis in the first place."
The best ammunition for Romney is the struggling American economy. "President Obama is not going to run on his record, but we are," said Ed Gillespie, a senior adviser to the Romney campaign, who was quoted by The New York Times.
Assuming a continuing difficult housing market, where prices are the lowest in years, Romney has asked rhetorically, "Is it easier to sell your home or buy a new one? If the answer were yes to those questions, then President Obama would be running for re-election based on his achievements and rightly so, but because he has failed, he will run a campaign of diversions and distractions and distortions."
Despite his sights on the White House, Romney first needs support from his former competitors for the nomination. Former House of Representatives Speaker Newt Gingrich has not formally conceded and so far has said he will continue to campaign against Romney, even though he has virtually no chance of winning.
He said he will take stock of his situation in the coming days, and it would not be surprising if he throws in the towel. One indication that he will do so was his statement Tuesday night in which he all but endorsed Romney after the latest primaries. "It's very clear that he is going to be the Republican nominee and I'm going to be for the Republican nominee," he stated.