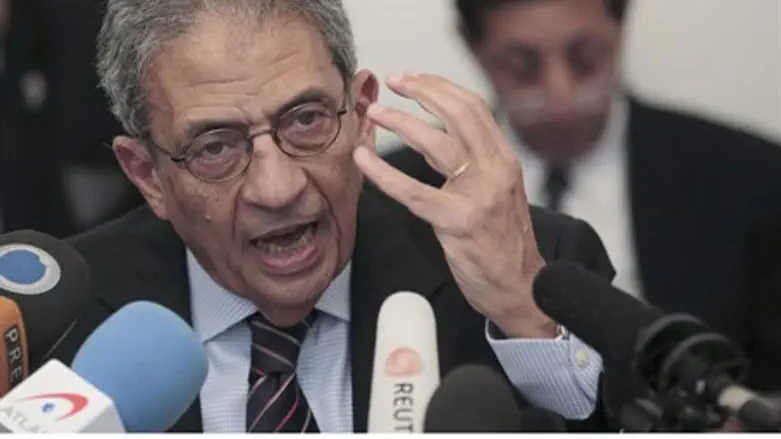 Amr Moussa
Reuters
Egypt's leading candidate for president said Sunday that his country is facing daunting challenges and presented his decades as a senior government official as a prime reason to vote for him and not an Islamist.
According to The Associated Press, Amr Moussa said Egypt is going through an economic and social crisis that requires the talents of an experienced statesman, not a president who learns on the job. Egyptians go to the polls to elect a new president on May 23-24.
Moussa served as Egypt's foreign minister under former President Hosni Mubarak and in 2001 moved over to head the Arab League. He resigned that post last year to run for president.
At a news conference Sunday in Cairo, Moussa said he disagreed with the goals of Islamist parties, which have won clear majorities in parliamentary elections running on a platform of Islamic principles.
"I believe that Egypt has been injured, Egypt has been mismanaged and that Egypt should not get into an experiment that has not been tried before," AP quoted Moussa as having said when asked about his top Islamist opponent, a member of Egypt's once outlawed, now powerful Muslim Brotherhood.

He added that such an experiment could enter Egypt "into a period of confusion."
Critics have charged that Moussa's record as a top official under Mubarak could mean his election would mark a return to the ways of the former regime.
Moussa pointed to his credentials as a longtime government official with deep knowledge of the system.
"I believe I can start from minute one as president with my knowledge of the government, the administration, the management and also the connection with the world and the Arab world and the African world, and Europe," he said, according to AP. "The country is in a major crisis. A major crisis doesn't justify at all a president who will ask around, what should I do at this point or that point and gaining experience as he goes."
Moussa is believed to be the leading candidate, after Egypt's election commissionbarred three of the main contenders for the presidency last week. Those barred are ultraconservative Islamist Hazem Abu Ismail, former intelligence chief Omar Suleiman and Muslim Brotherhood chief strategist Khairat el-Shater.
The Muslim Brotherhood is running its backup candidate, Mohammed Morsi. On Saturday, Morsi said that if he wins, he will be president of all Egyptians, but noted it is now time to put into practice the group's slogan, "Islam is the solution."
The extremist Muslim Brotherhood, which clinched the majority in recent parliamentary elections, has threatened to cancel the peace treaty with Israel by putting the issue up for a referendum and letting Egyptians decide.
Moussa recently rejected the possibility that Egypt will cancel the peace treaty it signed with Israel in 1979, saying "the Egyptian-Israeli peace treaty is in place, and I do not think there are any circumstances that will lead to its cancellation. I do not think this will happen, and I do not think it would be wise for this treaty to be cancelled. The treaty will continue so long as each party respects it."