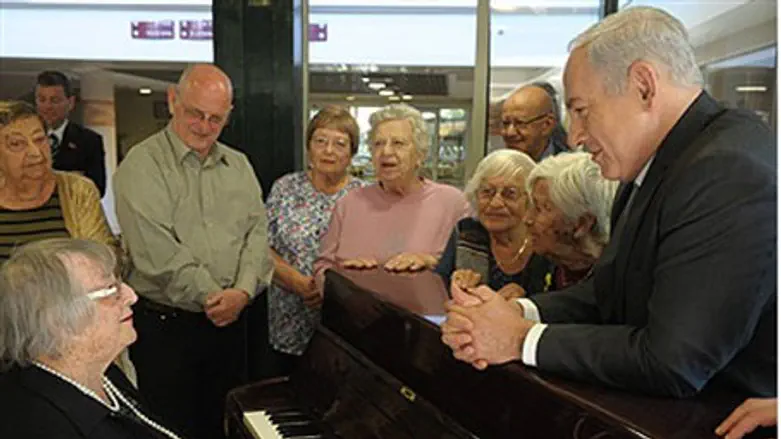 PM Netanyahu meets Holocaust survivors
Government Press Office
Prime Minister Binyamin Netanyahu visited on Tuesday a Jerusalem home for the elderly, most of whose residents are Holocaust survivors, in order to assess the attitude toward its residents, as well as their care and living conditions.
The visit took place ahead of Yom Hashoah, the Holocaust Remembrance Day, which will be marked Wednesday night and Thursday. Netanyahu was accompanied by Minister Yossi Peled, Deputy Minister Leah Nass and Deputy Health Minister Yaakov Litzman.
Netanyahu joined the residents for breakfast, discussed the kinds of treatment they receive and was briefed on activities at the home.  He spoke with several residents:
He met with Eti Nadiv, a Holocaust survivor who showed him the book she is currently reading, a biography of former Israeli Prime Minister Golda Meir. Nadiv told Netanyahu that she was moved and was enjoying reading the book because she herself remembers details mentioned in it. "This is important, to read how it all began," she said.
Idit Yapo, 104, moved from Germany to England to study music after she realized that there was no future for Jews in Germany. She told Prime Minister Netanyahu that she went to live in England in 1934 when Hitler began to become stronger in Germany. In England, she received a degree in art history.
Yapo told the Prime Minister, "A Jewish woman in Germany could not expect a profession or employment," and she added that she arrived in Israel in 1951 and married a native Israeli she had met in Paris.  The Prime Minister wished her many more years of health and said, "It is possible to say here today – the People of Israel live."
Joseph Adler, another resident, told the Prime Minister about his memories of meeting Adolf Eichmann in Vienna at the transport station and said that he had heard him say a few words in Hebrew.
Netanyahu also spoke with Elisheva Lehman, originally from the Netherlands, who told him about the book she wrote about her childhood in the Netherlands and her career as a music teacher in Israel. Moved by her meeting with the Prime Minister, Elisheva took a seat at the piano and began to play. She told Netanyahu that she had never believed that she would be privileged to play for him and asked to sing Hatikvah, Israel's national anthem.
At the end of his visit, Netanyahu met with Hanoch Mandelbaum, a survivor of Bergen-Belsen who helped build the table upon which Israel's Declaration of Independence was signed.  He told the Prime Minister about his work as a carpenter and about building the table.  The Prime Minister congratulated him on his historic part in building the country.