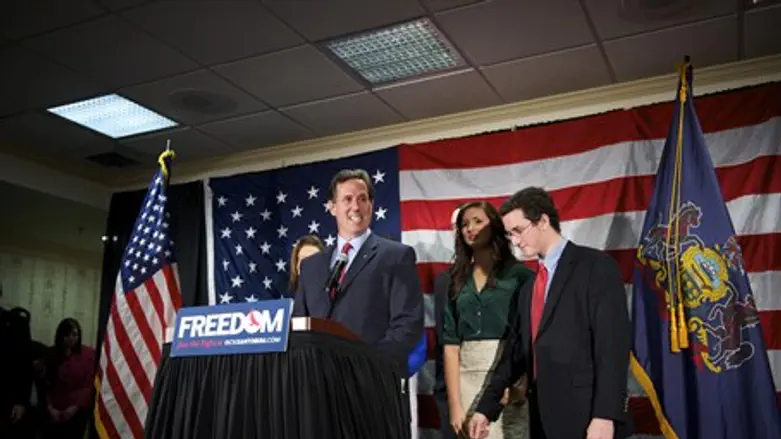 Santorum Drops Out
Reuters
Rick Santorum suspended his bid for the US Presidency on Tuesday, clearing the way for Mitt Romney's increasingly certain Republican presidential nomination.
"We made a decision over the weekend that while this presidential race for us is over for me, and we will suspend our campaign effective today, we are not done fighting," Santorum said at a press conference in Gettysburg, Pennsylvania.
Santorum's decision to "suspend" his campaign allows him to continue raising money to cover potential campaign debt and to keep his bound delegates unless he releases them.
"I walked out after the Iowa caucus victory and said game on," Santorum said Tuesday. "I know a lot of folks are going to write, maybe those even at the White House, game over. But this game is a long long long way from over."
"We are going to continue to go out there and fight to make sure that we defeat President Barack Obama," he declared.
In a statement, Romney called Santorum "an able and worthy competitor" and congratulated his often-bitter rival for his campaign.
"He has proven himself to be an important voice in our party and in the nation," said Romney. "We both recognize that what is most important is putting the failures of the last three years behind us and setting America back on the path to prosperity."
Santorum's senior strategist John Brabender on Tuesday said Santorum spoke to Romney about leaving the race, and that Romney has requested a meeting in the "near future."
Analysts say Romney will likely try to convince Santorum to endorse him and put the weight of his delegates behind the Romney campaign ahead of the Republican Convention in August.
Romney currently commands 645 of the 1,144 delegates he needs to win the GOP. Santorum is in second with 252 delegates, followed by Gingrich with 128 delegates and Paul with 45 delegates.
Even before Santorum's announcement, Romney had expected to expand his delegate lead in the four other states holding primaries on April 24 – Connecticut, New York, Delaware, and Rhode Island.
Early Tuesday morning, Santorum's campaign announced that his three-year-old daughter Bella, who suffers from a genetic condition called Trisomy 18, had been released from the hospital after falling ill over the weekend.
Santorum said Tuesday afternoon that Bella had recovered after a "difficult weekend," but that the situation "did cause us to think in the role that we have as parents in her life."
He said that "this was a time for prayer and thought over this past weekend," adding that the decision to end his campaign had been made during that period.
An outspoken social and fiscal conservative, Santorum spent much of the 2012 campaign cycle in relative obscurity behind a succession of alternative leading contenders – Donald Trump, Michele Bachmann, Rick Perry, Herman Cain and Newt Gingrich.
He finally catapulted into prominence in Iowa shortly before the January 3 caucuses as social conservatives rallied around him. Santorum effectively tied Romney in Iowa, and then went on to win ten other states.
But Romney had an undeniable organizational and financial edge over Santorum and built up a delegate lead while denying his rivals victories in key states like Ohio and Michigan.
Nonetheless, Santorum's unexpectedly-strong finish marks a political revival for the two-term senator following his crushing loss in his bid for a third term in 2006, and sets him up as a major figure in the Republican Party.
"This race was as improbable as any race as you will ever see for president," Santorum said Tuesday, describing his run as a "miracle."
He also called on his audience to remember "the values that make us Americans."