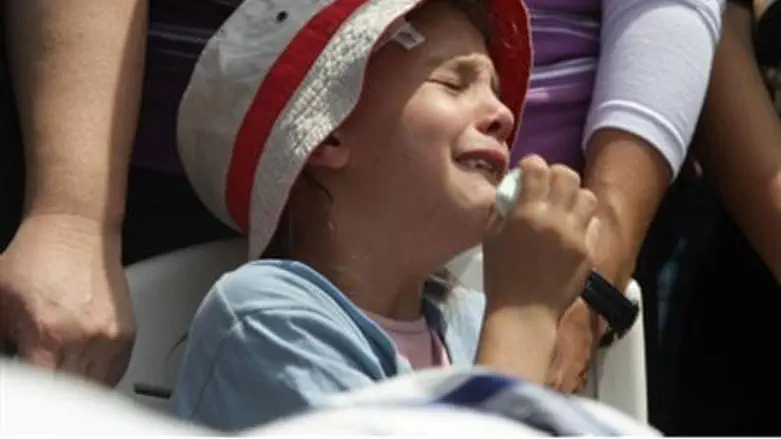 Child weeps at funeral of Arab terror victims
Israel news photo: Flash 90
This week, a prominent Jewish family's sponsorship let 350 children and teenagers, aged 6 to 18, attend a camp run by OneFamily, a Jerusalem-based organization that provides support for thousands of Israeli terror victims.
The $150,000 gift was made in honor of William Goldberg, the renowned New York diamond dealer who founded William Goldberg Diamond Corporation, reported The Wall Street Journal.
"He liked to make money, but it was more important to put it toward good causes," said Mr. Goldberg's daughter, Eve Goldberg, a vice president of William Goldberg Diamond.
"The work OneFamily does for these young terror victims is so amazing and moving and unique. We were moved," she continued.
The OneFamily Fund has provided approximately $35 million to support terror victim and provides help to about 2,800 families throughout Israel, rehabilitating victims of terror and providing support to their families.
The organization sponsors three camps a year, creating a therapeutic and fun environment for children and young adults who have been affected by terrorism. 
After a terror attack, many children suffer from depression, isolation and have parents that are "absorbed in mourning," sais Chantal Belzberg, executive vice chairman of OneFamily.
Ms. Goldberg noted that the camp enables victims to "have a couple of days to get out of their own nightmares."
Reflecting on her father's generosity she stated, "He was constantly teaching and talking to us about what he felt was important. There's no question that a lot of his passions in life became ours."