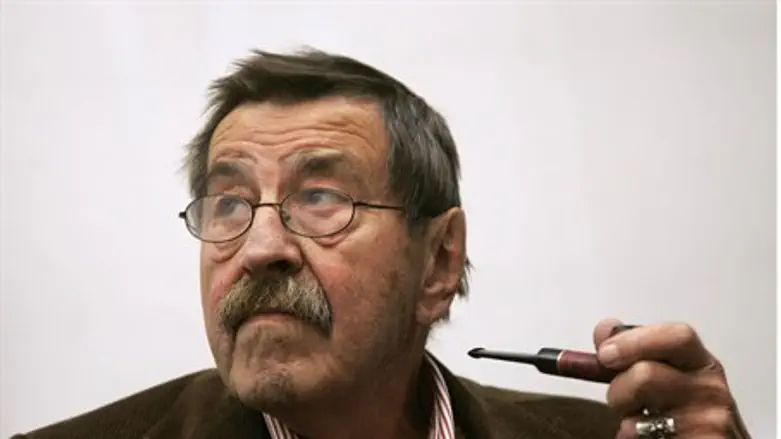 Gunter Grass
Reuters
Interior Minister Eli Yishai has banned German poet Gunter Grass from entering Israel.
Yishai declared Grass "persona non grata" in the Jewish State on Sunday, saying his poems were an attempt to "fan the flames of hatred against the state, and against Israel."
If Gunter chooses to spread distortion and falsehood, said Yishai, "I suggest that he do so from Iran, where he can find a [more] receptive audience."
Foreign Minister Avigdor Lieberman also had harsh words for the 84-year-old poet, saying "In order to get publicity and sell a few books, he once more is willing to sacrifice Jews."
German Foreign Minister Guido Westerwelle added his views to the issue in the Bild am Sonntag newspaper Sunday morning as well, noting that the poet's work bespoke a denial of Iran's intentions that was not a simple matter of bigotry, but also dangerous to the world at large.
"Despite international criticism, Iran is advancing its nuclear program," Westerwelle noted. "There are credible reports that point to a military dimension. In contradiction to international law, Iran refuses to cooperate regarding control of its nuclear program.
"Let it be said tto those who don't want to recognize that: This is not a playground for polemics, ideology and prejudices – this is dead serious...
"Nuclear weapons in Iranian hands would be a threat to Israel's security. For our responsible German foreign policy this is reason for special concern, because Germany has a historic responsibility for the people in Israel."
Prime Minister Binyamin Netanyahu last week commented, "For six decades Grass has concealed his past as a member of the Waffen SS. It therefore comes as no surprise that he describes the only Jewish State as the biggest threat to world peace, and opposes it equipping itself with the means for self-defense."
The poet slammed what he called
a "campaign" against him by critics
, after publishing a poem Wednesday in several European newspapers called "What Must Be Said."
In the poem, the Nobel Literature Prize laureate alleged that Israel is a "danger for world peace." He maintained an Israeli strike on Iranian nuclear facilities could "wipe out" and "annihilate" its people, adding that Iran's nuclear ambitions were "unproven."
Jewish publicist Herryk Broder called him "the prototype of an educated anti-Semite" in response.