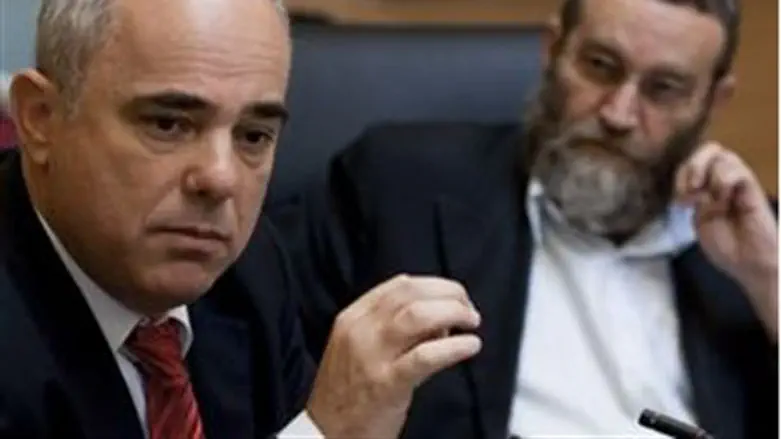 Fin. Min. Steinitz (left) and MK Gafni
Flash 90
Israeli banks are making huge profits by charging unreasonably high fees, MK Moshe Gafni charges.

Gafni, who heads the Knesset's Finance Committee, called on Bank of Israeli director Stanley Fischer and Supervisor of Banks Dudu Zaken to address the situation.

Israel's banks charge customers far more than the international average for simple operations, Gafni argued. "Figures published recently show that Israelis pay an average of 8.26% for going into overdraft," he said, "while in France the average is 1.75%, in Italy, 3.72%, and elsewhere in the European Union, 3.34%."

"We're all pleased by the financial stability and strength of Israel's banks, but the Bank of Israel must stop this process, which is contributing to the socio-economic gaps between the various sectors of the Israeli public," he declared.

Israel's banks recently published their profits. The larger banks, including Bank Leumi, Bank Hapoalim, and Bank Discount, each made hundreds of millions of shekels per quarter.

"I'm in favor of banks making a profit and paying high salaries," Gafni clarified. "But when the banks make so many billions of shekels in a single year, off of fees paid by customers who struggle with daily expenses, it is unacceptable, particularly when the fees in Israel are much higher than those in a significant percent of the Western world."

When the next Knesset session opens, Gafni added, he will call on the Finance Committee to discuss the issue.