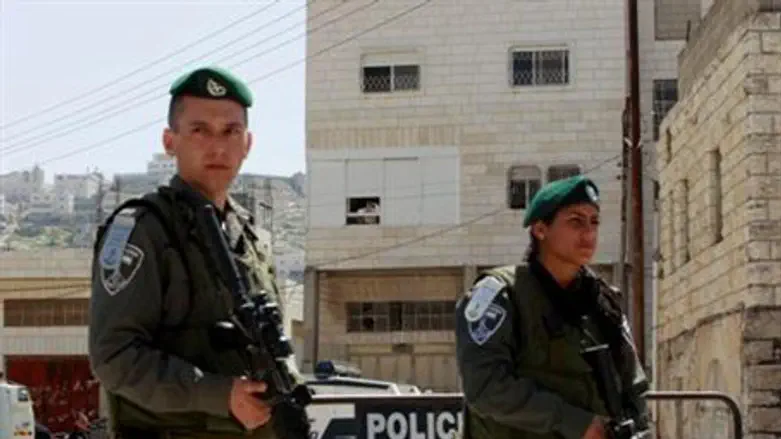 Border Police guard new Jewish home in Hevron
Reuters
Defense Minister Ehud Barak has silently backed down from his threat to expel 15 Jewish families from Hevron at 3 p.m. He may have boxed himself in a corner.
He has remained silent for several hours after his ministry spokesmen reiterated that the 3 p.m. deadline remains for the Jewish families to leave voluntarily or face police expulsion from the three-story building they bought last week from an Arab.
Hevron's Arab mayor has claimed that the deed of sale is fraudulent, but even left-wing Meretz Knesset Members admit that the transaction was above board and legal. The sticking point is the claim by Barak and senior IDF officers that a Jewish presence in the building is a threat to security.
Technically, no sale of property to Jews in Judea and Samaria can be carried out without Barak's approval, but practically speaking, his agreement is not needed.
Following disputes on the prospect of destruction of Jewish homes at Migron and the Ulpana neighborhood in Beit El, Barak may have assumed there would be enough division among Likud ministers that he could carry out the expulsion of Jews in Hevron.
If so, he has been proven wrong.
A parade of ministers and Knesset Members has voiced strong support for the residents of the newly purchased house, and Minister Yisrael Katz visited the home Tuesday morning and placed a mezuzah there.
Minister Limor Livnat also arrived, along with Likud Knesset Tzipi Hotovely, and all of them vowed that "there will be no expulsion."
The stand-off has evolved into a political drama, with the outcry of Likud leaders far louder than voices of opposition. Shaul Mofaz, new leader of the Kadima party, has said nothing, and coalition partners Yisrael Beiteinu and Shas also have been relatively silent.
Barak has found himself alone, and as of 30 minutes past his ultimatum, Hevron Jewish community spokesmen David Wilder told Arutz Sheva, "Everything is quiet." He said there are no signs of massive police forces preparing to expel the Jewish families.