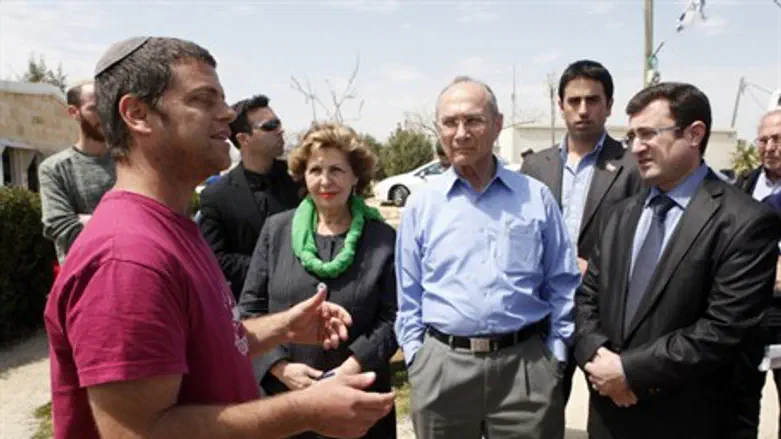 Yisrael Beitenu in Migron
Israel news photo: Flash 90
Members of Yisrael Beitenu toured Migron Sunday and vowed to assist the community, which faces a deadline for its destruction.
The delegation included Minister of National Infrastructure Uzi Landau, Minister of Immigrant Absorption Sofa Landver, and MKs Robert Ilatov, David Rotem and Moshe Matalon. They were accompanied by Binyamin local authority head Avi Roeh and residents of the community.
Yisrael Beitenu is a right-wing member of the coalition and may find itself sitting in a government that carries out a brutal expulsion like the one in Amona, not far from Migron, in 2006. Minister Landau sounded as if he has resigned himself to the fact that Migron will be torn down, and only seeks to make sure that the residents will not be abandoned afterward.
MK Rotem, who heads the Knesset's important Law, Constitution and Justice Committee, hinted that a solution could still be found for Migron despite the court's August 1 deadline for evicting the residents.
"Even if the land once belonged to Palestinians, we are talking about absentee landlords," he explained. "A legal solution needs to be found, and there are many solutions for properties of absentee landlords. And we will try and find the solution, so that it will be possible on the one hand to carry out the compromise, and not disobey the court."
Minister Landau referred to similar problems in other countries. "There was a decision by the Human Rights Court in Europe several months ago, regarding Cyprus," he told Arutz Sheva. "There are Turks in Cyprus who fled northward and there are Greeks who fled from the north to the south. And the Greeks demanded to implement ownership on houses where Turks lived.  The Human Rights Court in Europe said that a mechanism of compensation needs to be put to work. It is not possible to move people from places they have been living in for many years. I think we should start listening to similar solutions in other places in the world."
The minister said that the High Court decision must be respected. However, he added, "the phenomenon of Gush Katif cannot be allowed to repeat itself." He explained that he was referring to the fact that many of the families that were expelled from Gush Katif still do not have permanent housing solutions.