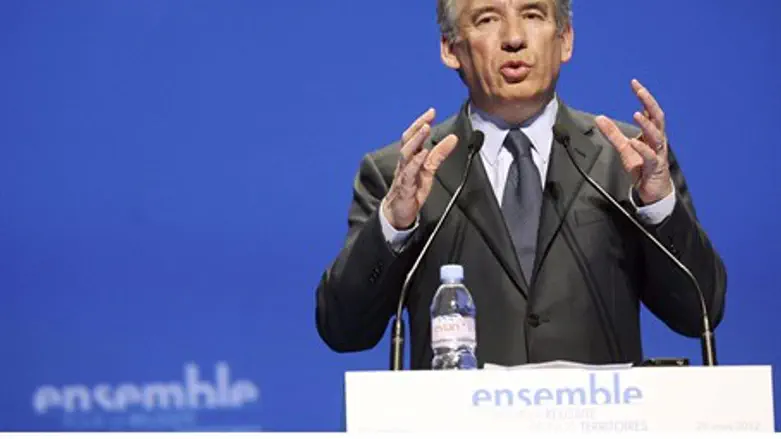 Francois Bayrou
Reuters
A new set of French polls are out and, as expected, Nicolas Sarkozy has benefited from appearing presidential and decisive after the Toulouse massacre.
In most polls, he leads his Socialist rival Francois Hollande on the first ballot and has cut into Hollande's margin on the second ballot, although he still trails the Socialist by 6 to 10% on the decisive second ballot..
Sarkozy's big problem is that he must simultaneously reach out to his right and to his left in order to gather enough voters to beat his opponent in the second round.
The National Front's Marine Le Pen will not be making it into the second round as she originally hoped, but Sarkozy needs a good chunk of her 15% of the vote to break his way in the second round .
According to the polls, while he will get more votes than Hollande from National Front voters on the second round. he will not get enough. Many National Front voters will not bother to even vote on the second round. Marine Le Pen will probably encourage that attitude because, paradoxically, a left-wing government offers greater growth opportunities for the National Front than a conservative government.
To his left. Sarkozy has the Democratic Movement of Francois Bayrou that is currently garnering 10% of the vote. Bayrou has not displayed a high regard for either Sarkozy or Hollande. However, as opposed to 2007, when he could have played kingmaker, in this election he has not been the trendy candidate and has been eclipsed in that regard by the candidate of the extreme left, Jean-Luc Melenchon.
If Sarkozy makes too strong a pitch for Le Pen's voters he could risk alienating voters from the Democratic Movement.
A possible strategy - that may not necessarily work - is to continue to signal right and highlight the cultural identity issues while simultaneously sending out feelers to Francois Bayrou. that in return for his support he could be considered for the post of prime minister or at least a senior cabinet post.
Bayrou is not getting any younger and his supporters would not be averse to some government influence. In 2007, Bayrou voters broke evenly on the second round between Nicolas Sarkozy and his Socialist rival Segolene Royal. This was fine for Sarkozy in 2007, but it will not suffice this year.
Francois Hollande has the advantage in that the supply of reserve voters is to his left and there is no chance of their voting for Sarkozy. They are sufficiently motivated to restore the left to power on the second round. Hollande's only problem is that too strong a showing by the extreme left on the first ballot could scare centrists into believing that he would be to heavily mortgaged to the extreme left to govern effectively.
Therefore Hollande cannot sit back and complacently wait for the second round but has to demonstrate already on the first-round that the extreme left is a distinctly junior partner in the "plural left" government that he would attempt to set up, following the model of the last socialist Prime Minister, Lionel Jospin.