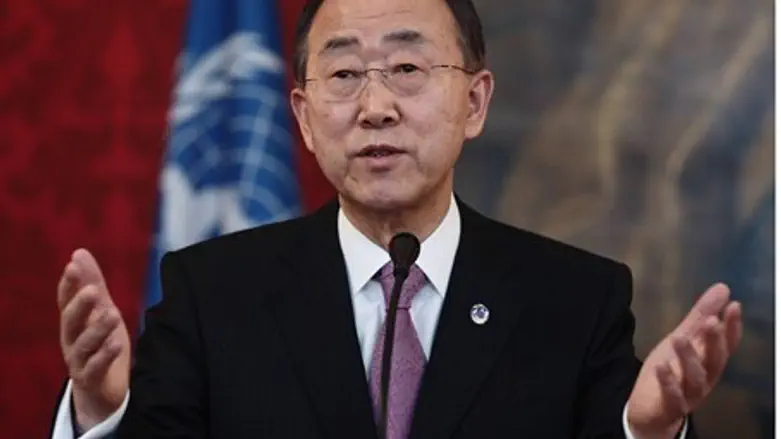 UN Secretary-General Ban Ki-moon
Reuters
UN Sec'y-Gen. Ban Ki-moon has called on Syrian President Bashar al-Assad to immediately implement a ceasefire deal arranged by envoy Kofi Annan. 
United Nations Secretary-General Ban Ki-moon called on Syrian President Bashar al-Assad to immediately implement a six-point ceasefire agreement arranged through envoy Kofi Annan three days ago.
"I urge President Assad to carry out these obligations immediately," Ban said in a statement to media Wednesday at a news conference in Kuwait.
Annan, Ban's predecessor, had managed to persuade Assad to accept a six-point peace plan earlier this week that was backed for the first time by the entire U.N. Security Council – including Russia and China.
The plan calls for the withdrawal of heavy weapons and troops from populated areas, unimpeded access for humanitarian aid workers, the release of prisoners jailed during the uprising, freedom of movement and access for journalists, a political process between the government and opposition, and allowance of peaceful demonstrations.
Thus far, Assad has ignored the agreement despite the commitments he made; on Wednesday, government forces continued their assault on villages throughout the country, and several across the border in Lebanon as they pursued rebels and Syrian civilians alike. Troops also seized control of the central city of Kalat el-Mudik, completing a 17-day siege of the area.
Assad has a track record for ignoring previous ceasefire agreements;  last year he also agreed to end the violence and then ignored the deal made with Arab League negotiators as well in a pattern that echoed the behavior of his late political colleague and friend, former Libyan dictator Muammar Qaddafi.