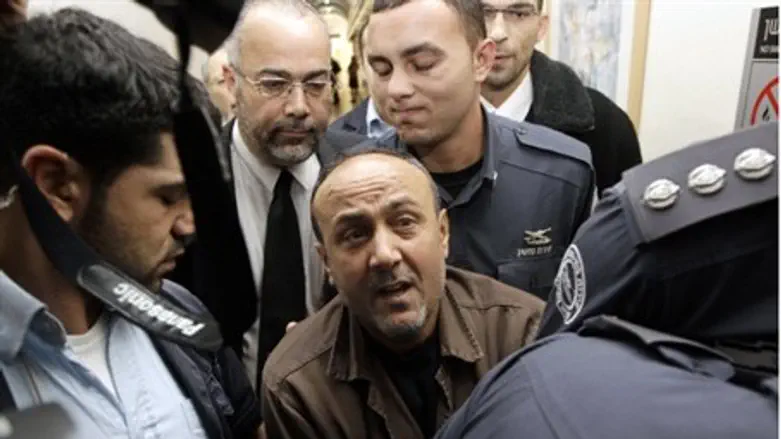 Barghouti (file)
Reuters
The Legal Forum for the Land of Israel has asked the Attorney General to launch an investigation against jailed terrorist leader Marwan Barghouti, following an illegal interview in which he called for more terror.
The Forum sent off a letter Tuesday to the AG and Government Legal Advisor, Attorney Yehudah Weinstein, demanding that Barghouti be investigated on suspicion of incitement, sedition, calling for illegal organization, encouragement of terror and making statements that endanger the State of Israel and its citizens.
Attorney Hila Cohen, wrote the AG on behalf of the Forum that "It was reported today that Barghouti called on Palestinians, in a letter from his jail cell, to begin 'a wide scale popular uprising' against Israel, which means – as you know – a general intifada."
"He added that 'The PA must stop all forms of coordination with Israel – economic and security…', and that 'it is the right of the Palestinian people to resist the occupation in all ways and means.' He also called for an economic boycott of Israel by other countries."
Attorney Cohen noted that Barghouti belongs to the Fatah/Tanzim organization and was a central figure in the "Second Intifada" – as Arabs refer to the unprecedented terror onslaught that raged between the years 2000 – 2005.
"As a senior member of the Tanzim organization, his statements have deep and decisive influence over his listeners, both in increasing morale and justifying their deeds, and practically in suggesting modes of action and additional means of terror."
The Forum noted that Barghouti violated items 133-4, 144 and 146 of the Penal Code and item 4b of the Order for Prevention of Terror.