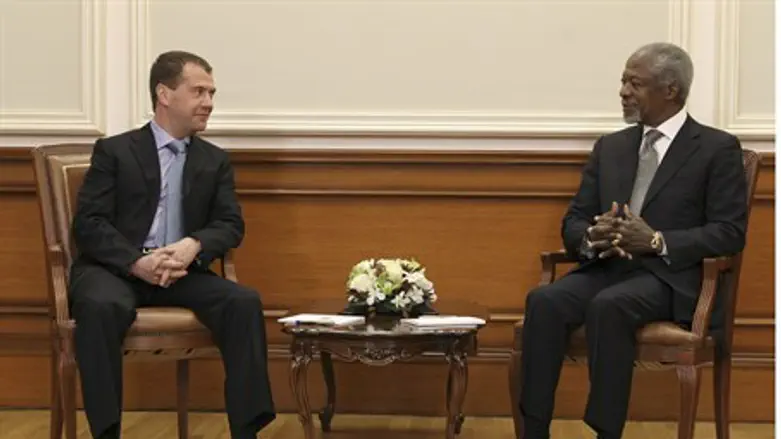 Medvedev and Annan
Reuters
Russian President Dmitry Medvedev warned on Sunday that Kofi Annan's mission was the last chance for avoiding a civil war in Syria, AFP reported.
Medvedev offered the UN-Arab League envoy Moscow's full support in his mission.
Russia has been facing mounting Western and Arab calls to step up pressure and stop delivering arms to President Bashar Assad's regime, after a year of violence that the opposition says has claimed more than 9,100 lives.
Moscow's position on Syria seems to be shifting. On Wednesday it backed a non-binding Security Council statement after vetoing two previous resolutions, AFP noted, but it did so only after making sure the text contained no implicit threat of further action should Assad fail to comply.

Medvedev on Sunday aimed his words at Assad directly, by warning of dire consequences if Damascus ignored Annan's peace plan.
"This may be the last chance for Syria to avoid a protracted and bloody civil war," Medvedev was quoted by AFP as having told Annan at a meeting in Moscow.
"We will be offering you our full support at any level at which we have a say," he added. "We very much hope that your efforts have a positive outcome."
Annan reportedly replied that he expected Russia to play an "active" role in making sure that both sides follow the points of the UN Security Council-backed initiative.
The UN Security Council-backed peace plan requires Assad to pull back his forces from protest cities and provide immediate humanitarian access to the thousands of civilians trapped inside.
It also makes no explicit demands on the opposition and calls for a gradual transition to a more representative government in which Assad's role remains undefined.
Meanwhile the fighting continued in Syria on Sunday, the AFP report said. At least 30 people died, including at least 18 civilians, with monitors and activists reporting violence stretching from the outskirts of Damascus to Syria's northern border with Turkey.
The Local Coordination Committees (LCC) reported "heavy shelling of Khaldiyeh, Hamidiyeh and Old Homs neighbourhoods by the regime's army," with explosions shaking the whole of Syria's flashpoint central city.
In the northwest province of Idlib, AFP reported, regime troops killed seven civilians, including three children, in the town of Saraqeb and in Kaframim village, where they torched the houses of dozens of fleeing rebels.
Another five civilian were killed in the northern city of Hama on Sunday, the report said, while the LCC reported three troops and six mutinous soldiers killed in the southern town of Nawa.
The US-based Human Rights Watch loudly accused the Syrian government army on Sunday of using human shields in its war on rebels.
The group released a report saying Syrian soldiers and regime loyalists forced civilians to march in front of them as they advance against rebel forces earlier this month.
The report documented government troops advancing with residents to protect them in rebel strongholds where the uprising has held firm, such as the northern province of Idlib, near the border of Turkey.