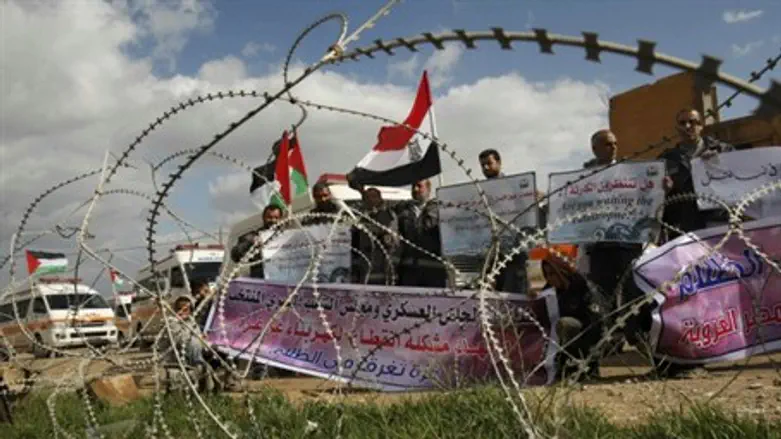 Protesting the power crisis in Gaza
Reuters
Gaza's Hamas rulers are caught between their rage at Israel and their distaste for having to cooperate with Egypt. The result has been a wintry region without electricity and, within the next few days, the situation will reach crisis proportions if the leadership does not come up with a solution.
Storage tanks in which fuel was kept as a back-up have been drained nearly dry; basic infrastructure is now threatened, local sources say.
However, Hamas did not expect Egypt to balk at the intransigence so long tolerated by a Jewish State that had formerly supplied Gaza with electricity even during the 2006 war, and subsequently during Operation Cast Lead.
More than a year ago, the terrorist government decided the smuggling tunnels beneath the border with Egypt could provide as much and cheaper fuel than that sold to the region by its enemy, Israel.
The European Union months ago was willing to step in and help by advancing the money as a loan for purchasing fuel from Israel for the region. Europe negotiated with Ramallah-based Palestinian Authority Chairman Mahmoud Abbas over the matter, asking him to reimburse the EU and then obtain payment for the fuel from Hamas.
After a few small payments, however, Hamas decided that smuggling fuel from Egypt was a better bet. However, the decision was flawed.
Egypt itself has suffered shortages – one of the reasons for last year's revolution. Generous profits gleaned by Hamas taxes on subsidized fuel intended for Egyptians sparked anger in Cairo's new government, led by the Muslim Brotherhood.
Egypt put a stop to the practice and instead insisted on shipping the fuel in a legitimate fashion, through Israel's land crossing. Hamas countered with a demand to ship the fuel through the Rafiah crossing with Egypt – and there the matter ended, with Egypt having lost patience.
Fuel supplies to the terrorist-controlled region's power plant ended in early February, sending Gaza into freezing cold darkness.
Fuel for hospital generators is nearly at an end; when it runs out, premature and sick babies in incubators could die. People with failing kidneys who need dialysis will be unable to clean their blood – and they will die too. Intensive care units will be without the life-saving equipment they need.
Many ambulances are without gasoline, and the rest will shortly be off the streets. Sewage treatment facilities will be unable to operate, and water supplies will drop because pumps won't operate. With no sign the flow will resume any time soon, the storage tanks are nearly dry.