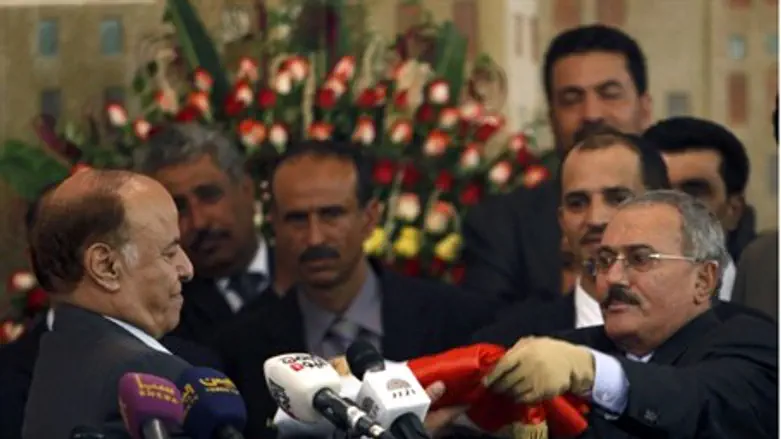 Goodbye, Saleh
Reuters
Ousted president Ali Abdullah Saleh has become a thorn in the side of Yemen's new government.
In November last year, Saleh formally agreed to end his 33-year rule and signed a GCC deal he had previously backed out of three times. Under the deal, Saleh would pass power to his deputy Abd-Rabbo Mansour Hadi in exchange for a grant of immunity from prosecution.
Shortly after signing the deal in Riyadh, Saleh continued to act as a president; issuing decrees, and receiving and sending letters to international leaders leading to demands from Hadi that the former president stop his meddling.
Hadi reportedly went so far as to ask officials in Washington, who backed the GCC-brokered transfer of power deal, to block Saleh's return to Yemen from the U.S. where he was seeking medical treatment ahead of his own inauguration.
Washington, who considered Saleh a political hot potato, refused and allowed him to return amid rumors the fourth Arab dictator to be driven from power during the Arab Spring was seeking exile in Addis Ababa.
Saleh's own staff gave traction to those rumors ahead of Hadi's formal ascension to the presidency, but after Hadi's inauguration he immediately reversed course and announced he would be staying.
Many observers thought Saleh would stop interfering when Hadi was formally sworn in as the rubber-stamped president last month, but he has not stopped.
Instead, Saleh has moved – as Hadi feared – from being president of Yemen to president of Yemen's ruling party. Many have taken to calling Saleh "president of the president" since Hadi is still his deputy in the party bureaucracy.
Last month he went so far as to personally contact military commanders during a major terrorist attack and gave conflicting orders – interfering in the evacuation of wounded soldiers from the site of an Al-Qaeda attack that killed 78.
The opposition's Joint Meeting Parties (JMP) said that Yemen could not be stable and no political settlement would be reached as long as Saleh remained involved in Yemen's politics.
"Saleh was given immunity from prosecution in exchange for completely leaving the political process," JMP spokesman Abd Al Galeb Al Audaini told Gulf News.
"His work as a president of his party shows that he is not committed to his promise. He can't have his cake and eat it too. He can't be a political figure and at the same time have immunity."
Al Audaini urged the countries that brokered the peace initiative to step in and stop the former president from jeopardizing the political order.
"The sponsors of the GCC initiative have an ethical duty to say 'no' to any party that tries to impede the implementation of the initiative," he said. "Saleh was given the immunity to prevent more bloodshed in the country. People died in the streets to get rid of his regime and will not tolerate seeing him ruling Yemen again."
Saleh's party, the General People's Congress, and the former opposition's Joint Meeting Parties (JMP) are in a coalition government under Hadi – who is widely seen as an honest broker dedicated to political reform.
Earlier this week, Hadi was forced to intervene when JMP ministers refused to attend cabinet and committee meetings in protest of Saleh's continued machinations.