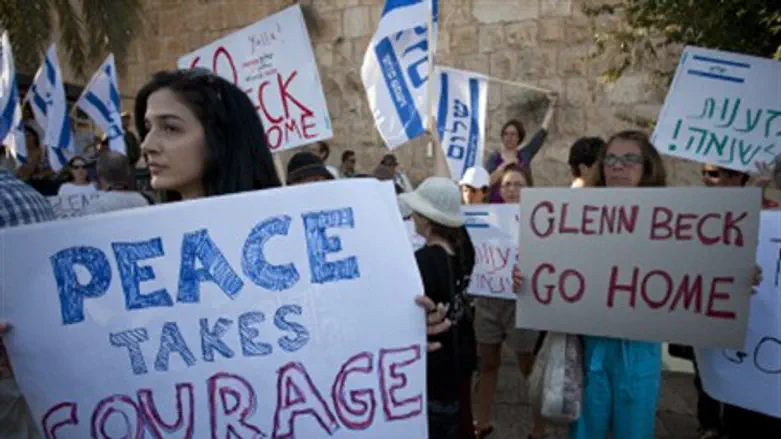 Leftist protest (file)
Israel news photo: Flash 90
The State Attorney's Office stated in a letter to the Attorney General / Legal Advisor to the Government Wednesday that citizens who used the Nazi salute cannot be put on trial, as the salute does not constitute a criminal offense.
Attorney Dan Eldad, a senior official in the Department for Special Assignments in the State Attorney's Office, wrote the opinion in a reply to a query by the Legal Forum for the Land of Israel. The Forum had asked the AG to file charges against citizens who had used the offensive salute during the Human Rights March on December 9, 2011, in Tel Aviv. One of the demonstrators even uploaded a picture of the salute to his Facebook page.
Attorney Eldad said that "the current legal situation does not make it possible to use criminal proceedings to deal with a Nazi salute in a demonstration, despite the deep revulsion we all feel from such behavior."
In response to the Forum's request for legislation that would make use of Nazi symbols illegal, the AG transferred the matter to Attorney Raz Nizri, his Deputy for Criminal Matters, to examine how it can be advanced.  
Attorney Hila Cohen of the Legal Forum for the Land of Israel said: "It is difficult to believe that in days in which anti-Semitism is in bloom worldwide, the Israeli law enforcement system cannot deal with people who salute in Nazi fashion, as if stating that they wish to emulate the Nazis."
Cohen noted that the AG gave a similar answer regarding the use of photomontages showing the prime minister in Nazi uniform on a leftist website. 
"The legal lacuna and the law enforcement system's policy could encourage the use of these despicable symbols," she stated. "Cases like the Human Rights Watch in Tel Aviv are becoming more widespread, and are being used by 'human rights' activists from the radical left. "
"It is unacceptable that in a state that was established and built by Holocaust survivors, among others, there will not be a legal solution for use against those who compare the Nazis' actions to the state or any of its branches."