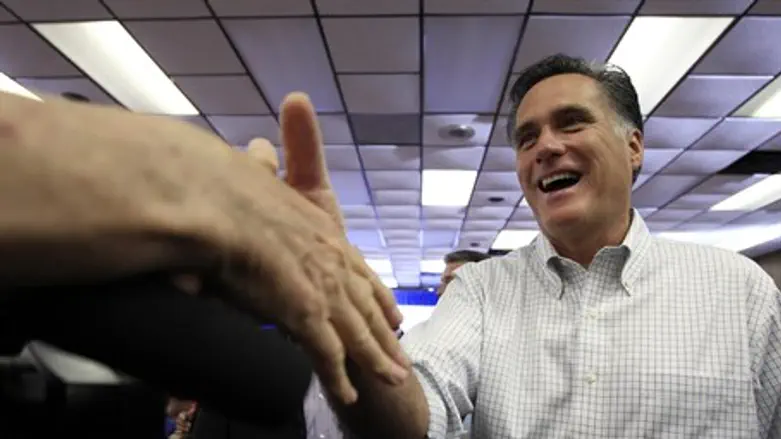 Romney campaigns in Illinois
Reuters
CNN is projecting that Mitt Romney will win Sunday's Republican presidential primary in Puerto Rico.

The projection is based on vote results obtained from local party and election officials.
As of 8:35 p.m. EDT, with about 23 percent of total ballots accounted for, the former Massachusetts governor had a substantial lead with more than 25,000 votes, or 83 percent of the vote.
The other three candidates – Rick Santorum, Newt Gingrich and Ron Paul – were far behind, CNN noted. Santorum was a distant second, at eight percent with slightly more than 2,500 votes. Gingrich had two percent and Paul received one percent of the vote.
Speaking at a rally Sunday night in Illinois, Romney said that Puerto Rican voters were clear about which of the four candidates "most represent their feelings," and especially their desire to nominate someone who can bring about a stronger economy and smaller government.
"Those people who don't think that Latinos will vote for a Republican need to take a look in Puerto Rico," CNN quoted the former Massachusetts governor as having said.
"Hispanic voters are going to vote for Republicans if we stand for something -- conservative principles that bring growth and good jobs and rising home values," he added. "That's how we're going to win, and we're going to get Latino voters to help us out."
By winning Puerto Rico, Romney will be awarded 20 delegates, according to a CNN projection.
Santorum created a small political firestorm on the island, the report noted, when he said last week that English should be the principal language in Puerto Rico before it could gain statehood. Puerto Rico will vote on a statehood referendum in November.
Romney's campaign offered a different position the following day, with spokeswoman Andrea Saul saying that Romney "would not, as a prerequisite for statehood, require that the people of Puerto Rico cease using Spanish."
In a crucial vote last week, Santorum won the Alabama and Mississippi primaries, beating Gingrich who had been under the most pressure to take both states, after winning contests in South Carolina and Georgia.
Previously, Santorum won the Kansas caucuses, receiving 51 percent of the votes. Romney came in second with 21 percent, Gingrich followed at 14 percent and Paul received 13 percent.
In the Super Tuesday primaries, Romney won Ohio, his home state of Massachusetts, Idaho, Vermont, Virginia and Alaska.
Santorum won North Dakota, Oklahoma and Tennessee, while Gingrich won his home state of Georgia. Paul has yet to win a state.