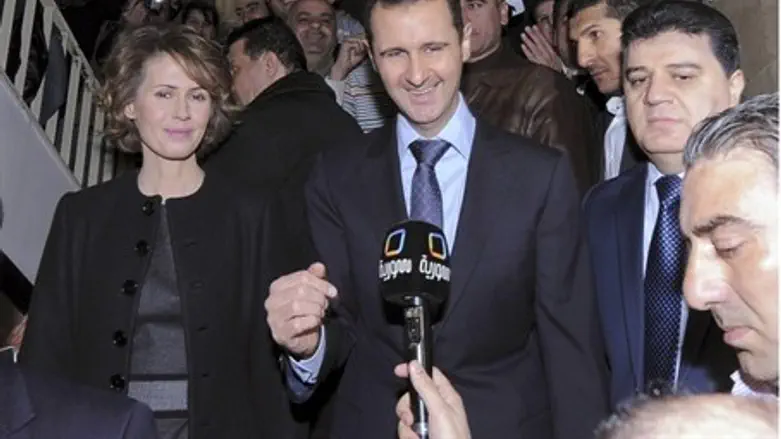 Assad and Wife Asma
Reuters
A prominent Egyptian cleric on Thursday evening issued a Fatwa calling for the assassination of Syrian president Bashar al-Assad.
"He who has the chance to kill Al-Assad and does not do this is a sinner," Imam Safwat Hejazi told a rally held in Cairo in support of a popular revolt against Al-Assad's rule on Friday.
"Hadn't I been a known face, I would have gone myself and killed him," added Hejazi, who was a prominent figure in the popular uprising against ousted Egyptian president Hosni Mubarak.
Hejazi added that his anti-Assad fatwa (religious edict) has been echoed by many Muslim clerics.
His remarks came as Assad's bloody crackdown on the popular uprising against his regime entered its second year on Thursday.
Reports of war crimes by forces loyal to Assad have become increasingly prevalent as the oppression in Syria intensifies, including sustained artillery and sniper fire on neighborhoods the government says is "harboring terrorists."
Local residents and human rights activists have reported mop up operations in retaken rebel strongholds including mass executions and the systemic rape and torture of survivors.
UN Human Rights officials say some 230,000 Syrians have been displaced in the ongoing unrest, many of whom have made their way to Egypt.
Last month, Egypt recalled its ambassador for Damascus, which prompted the latter to withdraw its own envoy in protest. 
On Thursday, the six-members of the Gulf Cooperation Council closed their embassies in Syria. Saudi Arabia and Bahrain had previously recalled their ambassadors.
The London-based Observatory for Human Rights has said that a total of 9,114, have been killed since the outbreak of the uprising in the country. For the first time, the group indicated that included combatants on both sides.
The civilian death toll, they said, stands at 6,645. UN Human Rights officials, however, have said the civilian death toll is "at least 7,500."