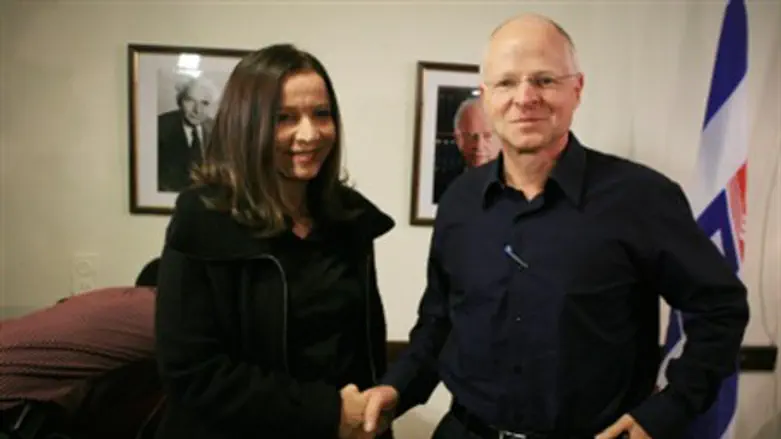 Yechimovich and Schalit
Israel news photo: Flash 90
Noam Schalit, father of freed Israeli soldier Gilad Schalit, showed understanding for Hamas's tactic of abduction of IDF soldiers in an interview on Channel 10 Wednesday.
Interviewer Amnon Levy asked him if he favors holding diplomatic talks with Hamas.
"I am in favor of anyone who is willing to talk to us," he said.
Levy asked if he would talk to Hamas's Gaza boss Ismail Haniyeh.
"If we reach the bridge we will cross it, certainly," he said. But he added that this could happen only if Hamas "change their ways and are willing to recognize us and stop the war against Israel."
In a reference to a controversial past statement by Defense Minister Ehud Barak, he added: "What did Barak say? 'If I were a Palestinian, maybe I too would have been a terrorist or freedom fighter' as they call them, or something else… "
Levy: If you were in Hamas would you also abduct a soldier?
Schalit: I don't know. Maybe I would have fought in a different way or something.
Levy: But you do not rule it out.
Schalit [in a reference to pre-statehood days]: We also abducted British officers when we fought for freedom.
On the other hand, Schalit said that Israeli governments should have taken tougher measures against Hamas, including blocking the transfer of tax revenues and blocking the import of fuel .
Schalit spoke of the "mutual responsibility" of Israel's citizens for each other, in the context of the struggle for his son's freedom, and of "Not abandoning an Israeli who is in trouble." However, he was unable to tell his interviewer what his positions are on various issues that occupy the public.
He was defensive regarding his lack of political opinions, "I still have time until there are elections," he said. "People will get to know me. I am not conducting an election campaign in this program."
Regarding tensions between Ashkenazim and Mizrachim, he said: "I cannot say  have an opinion on this matter." Regarding Iran, he stated: "I am not running on the security ticket."
Regarding state and religion – Schalit said he favors a clear separation between the two but would not say what the separation would look like. He showed ignorance in the matter of civil marriage, stating mistakenly that it was possible to be married in a civil ceremony in Israel.
Schalit's announcement that he was joining Labor in the hope of being elected to next Knesset caused much anger in Israel, and many people from a variety of political hues see it as a cynical move and an insult to the public that was willing to pay a high price for his son's freedom.
As a journalist in Voice of Israel radio, Yechimovich spearheaded the "Four Mothers" campaign that emphasized negative news from the front and militated for an immediate IDF withdrawal from southern Lebanon. That hastily conducted withdrawal, in 2000, has been blamed by many analysts for the outbreak of the murderous terror campaign by terrorists under Yasser Arafat, a few months later -- and also for the rise of Hizbullah's power in Lebanon.