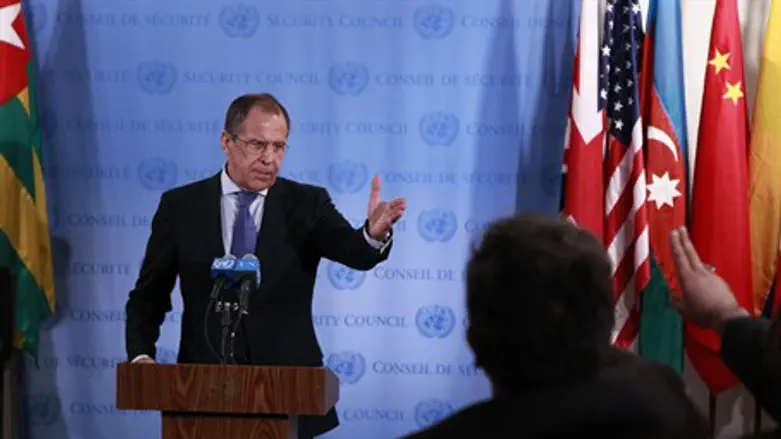 Segei Lavrov
Reuters
Russia's foreign minister on Wednesday gave air to a rare moment of pique with President Bashar al-Assad saying he has been slow to implement reforms as affairs in Syria spiral out of control.
"Regrettably, he hasn't always followed our advice in his activities," Sergey Lavrov said. "He has approved useful laws reviving the system and making it more pluralistic."
But it has been done after a long delay, and the proposals about launching a dialogue also have been slow to come. Meanwhile, the armed confrontation is expanding and its inertia may sweep and engulf all, he added.
Observers say Lavrov's comments to Russia's parliament are likely to herald a change in Moscow's much-criticized policy towards Damascus – but it was notable for its uncharacteristic frustration.
Moscow has protected Assad's regime from UN sanctions over its year-long bloody crackdown on a popular uprising that UN Human Rights officials say has claimed at least 7,500 civilian lives.
Syria is Russia's last ally in the Arab world dating back to the Soviet era and provides Russia with its only year-round warm water port outside of the Black Sea.
Moscow has billions of dollars in oil and weapons contracts tied to Assad's regime – and has adamantly refused to stop arms sales despite emergent reports of war crimes by Syrian troops.
Lavrov said none of the weapons Russia currently is supplying to Syria could be used against the protesters, and that the arms trade is aimed at helping Syria fend off external threats.
Lavrov insisted that Moscow's stance was rooted in respect for the international law – Russia has long opposed military interventions – not a desire to defend its client.
"We aren't standing up for the regime or specific personalities, we are defending the international law that demands that internal conflicts are settled without foreign interference," Lavrov told the parliament.
Russia and the United States have been at loggerheads over Moscow's refusal to back sanctions against Assad's regime.
In Washington, State Department spokeswoman Victoria Nuland said Assad "is going to go down, whether it's a matter of days or a matter of weeks."
"He can run around and use this horrific violence all he wants, but it's not going to change the fact that his country no longer supports his leadership and certainly doesn't support these tactics," she said.
The Obama administration opposes military intervention in Syria, saying it could lead to a full blow civil war, but maintain sanctions could hasten Assad's ouster.