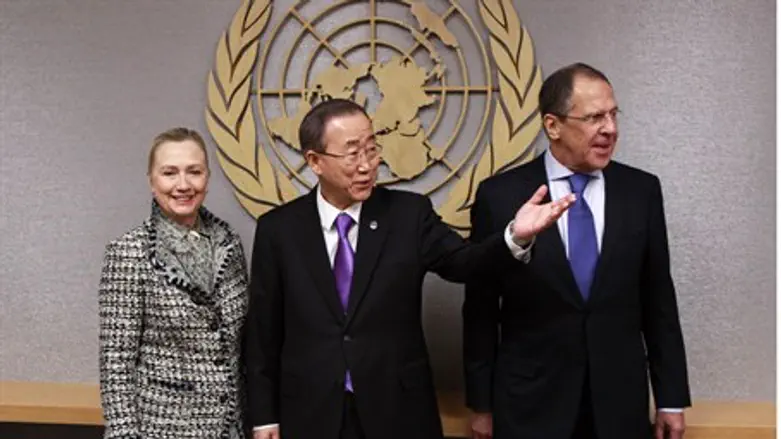 Clinton, Moon, Lavrov
Reuters
The United States has asked Russia to warn Iran that negotiations slated for April are a last chance to avoid military strikes against its nuclear program.
Russia's Kommersant reported Wednesday that US Secretary of State Hillary Clinton told Russian Foreign Minister Sergei Lavrov that the upcoming talks between Iran and the five major powers plus Germany were its "last chance."
"She asked her Russian colleague to make this clear to the Iranian authorities" the newspaper reported, adding the exchange occured after Monday's UN Security Council meeting on Syria in New York.
Kommersant said a precise date and location for the talks is still being decided, but Turkish foreign minister Ahmet Davutoglu said last month the discussions are expected to begin in April at the latest.
The report gave no further details on the kind of military action Tehran faced, but Russian diplomats at the United Nations told the paper they believe it is a "matter of when, not if" a military strike occurs against Iran.
Israel and the United States have both stipulated that the use of force to stop Iran's bid for nuclear weapons remains "on the table," and demand Iran halt its uranium enrichment activities.
The International Atomic Energy Association has issued two reports in recent months indicating Iran has sought - and continues to seek - nuclear technology that has solely military applications.
It has also raised pointed questions about Iran's push to enrich its uranium stockpiles to 20% purity, a key jumping off point should Iran make a dash to enrich its uranium to the 93% needed for nuclear weapons.
Iran says it is enriching uranium to 20% in order to research medical isotopes, but proliferation experts note that Tehran is enriching far more uranium than is necessary for that purpose and does not have a sufficiently advanced medical research sector to support the claim.
Russia has maintained that military action against Iran risks "catastrophic" consequences and has said that the crisis must be solved diplomatically.
However, Kommersant said the Russian military was now at a state of "mobilized readiness" to protect the country from spillover from a conflict erupting, like an influx of refugees into neighboring Azerbaijan.
Washington's warning by way of Moscow comes amid mixed signals from the Obama administration. Obama has signalled to Tehran he is not interested in military action, but top officials have testified to lawmakers a stike is in the planning stages.
The United States and Iran have not had diplomatic relations since 7 April 1981. The US broke off relations following the seige of its embassy in Tehran following the 1979 Islamic revolution, in which 52 US diplomats were held hostage for 444 days.
Washington saw the incident as a violation of the centuries-old principle of international law that granted diplomats immunity from arrest and diplomatic compounds sovereignty in the territory of the host country they occupy.
Instead, the United States operates an "interests section" in the Swiss Embassy in Tehran, while Iran maintains a similiar section in the Pakistani embassy in Washington DC.