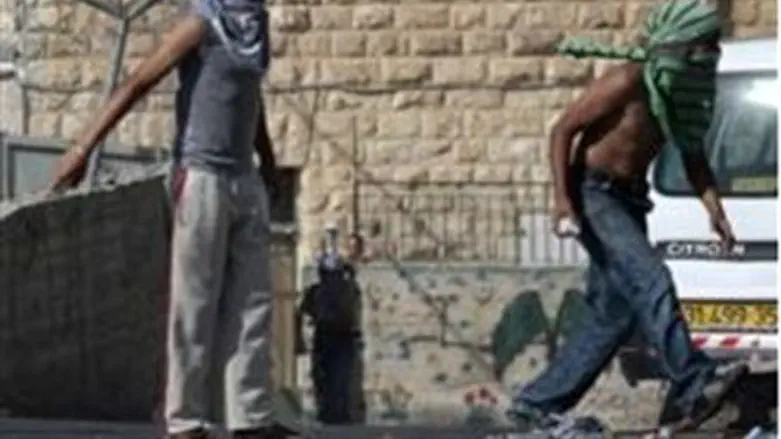 Rock throwing Arabs in Jerusalem (archive)
Israel news photo: Flash 90
Another hyped media opportunity, in the style of the Gaza flotillas and last year's abortive marches on Israel's borders for "Naqba Day", is planned for the end of March. 
Mr. Zaher Birawi, Spokesman for the 'Global March to Jerusalem,' an initiative that aims at getting over one million Arabs and their supporters to attempt to infiltrate Israel's borders on March 30th, said that the initiative "demand[s] freedom for Palestine and its capital Jerusalem." 
He claimed that the campaign is "an international coalition of hundreds of organizations," which plans on amassing organizers from the bordering countries of Egypt, Syria, Lebanon and Jordan and also organizing protests in countries worldwide.
Birawai said  that the activities call "for peaceful, non-violent demonstrations to show the concern about what is happening against Jerusalem from the Israeli government."
Infiltration of a sovereign state is by definition a violent, illegal act. Egypt shoots to kill at Sudanese infiltrators. Israel, as well as Lebanon, stopped last year's attempted march in its tracks. After some of the marchers from Syria managed to enter Israel, border barriers were revamped.
In response to a question posed by the interviewer as to whether the current unrest in Syria will affect its plans to join the 'Global March to Jerusalem' Mr. Birawi claimed that while no participants will be going into the country, Syrians will not be deterred from joining in the protests against Israel. 
Assad's government used last year's march to attempt, unsuccessfully, to divert Syrian citizens from their rebellion against his government.
The spokesman claimed that the campaign does not affiliate itself with any political party and simply "aim[s] to change the nature of the confrontation by compelling the occupiers to face millions of demonstrators, demanding freedom for Palestine and its capital Jerusalem."
In response to the interviewers question regarding the meaning of "liberating Palestine," Mr Birawi asserted that the activities refrain from intervening in "political issues between Israelis and Palestinians and peace negotiations ad border negotiations and security things, etc." "That is not our business," he said. Their business, he says, concerns the ending of the "Judaization of Jerusalem, " the new catchphrase of PA complaints about Israel's historically Jewish capital.
Mr. Birawi affirmed his website's statement that "condemn[s] the Zionist campaign of ethnic cleansing in Jerusalem and the rest of Palestine including all ongoing policies intended to change the demographic and geographic situation in the city and aimed at its Judaisation."
"We also condemn the continuation of the Zionist occupation forces in building the apartheid wall that aims to expropriate more Palestinian lands and convert the occupied areas into shrinking cantons isolated from each other," the official website states. 
For good measure, Mr. Birawi then refused to answer whether another of the 'Global March' aims is the "right" of "return" for millions of descendants of Arabs who fled Israel in 1949 and who call themselves "refugees".
He denied knowledge of the official statement issued by the 'Global March' stating that it "support[s] the non-negotiable & inalienable rights of the Palestinian People including their families to return to their homes and lands from which they were uprooted."