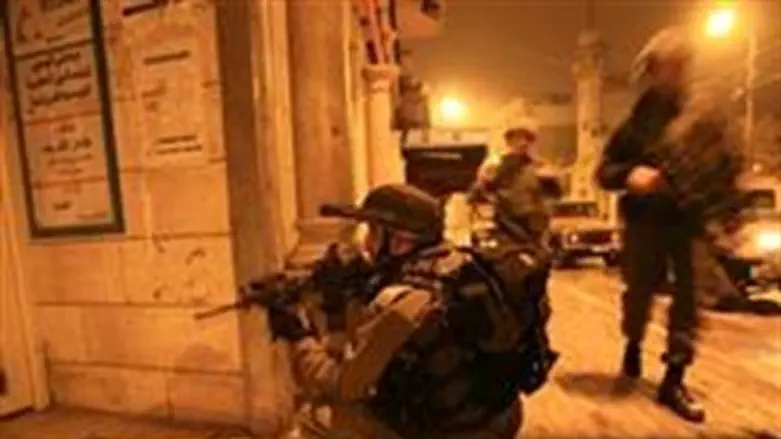 Counter Terror Operation
Flash 90
The IDF said Friday it is investigating the killing of an Arab teenager in Yatta, south of Hevron.
Zakariya Abu Eram, 17, was shot and killed by IDF soldiers during a knife-attack on an Israeli soldier on Thursday.
It was initially reported that Eram was the perpetrator who stabled an Israeli soldier in the neck, moderately wounding him.
However, an IDF spokesperson said Eram was in the company of another man, 18, who actually carried out the attack.
The assailant was also wounded when the attacked soldier opened fire to save his own life, the spokesperson said.
Local witnesses claim Eram was an onlooker, and not involved in the attack. If so, it is likely he was hit by a stray bullet.
However, the IDF spokesperson described Eram as an "accomplice."
The shooting occurred during an operation by Israeli soldiers to arrest Hamas-member Khaled Makhamreh.
Makhamreh was freed as part of Israel's deal to free over 1,000 terrorists in exchange for kidnapped soldier Gilad Shalit.
According to the terms of their release the terrorists were required renounce terrorism or face re-arrest.
Makhamreh is only the lest terrorist freed in the deal to have been found in violation of the agreement.
Thursday's attempted murder of an Israeli soldier is only the latest in a string of knife attacks targeting Jews in Judea and Samaria.
On Monday, IDF forces tracked and detained two Arabs carrying knives who had attempted to enter the Jewish community of Elon Moreh. The men fled when spotted by local security, but were subsequently captured.
The following day, police arrested an Arab woman from the village of Habla who reached the security fence of Emmanuel carrying a large knife. She admitted she planned to carry out a stabbing attack.