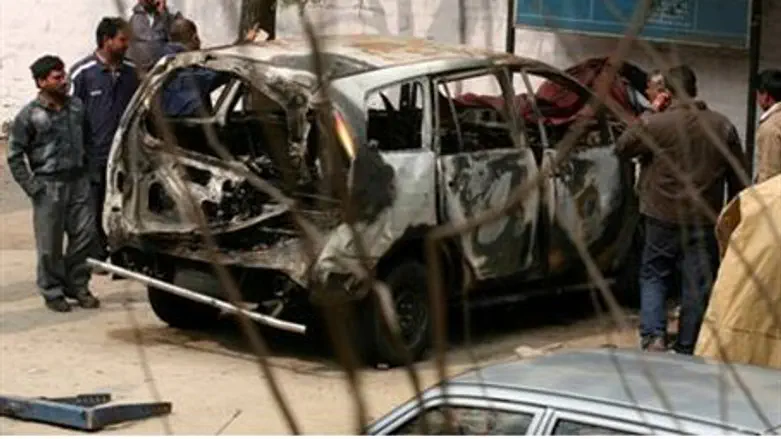 Indian national arrested in Israeli car bomb
Reuters
New Delhi police have arrested an Indian national, allegedly working for Iran, for carrying out the car bomb blast that wounded the wife of an Israeli diplomat last month.
The suspect was identified as 50-year-old Syed Mohammed Kazmi, a Shiite Muslim who, Indian media said, is known to be anti-Israeli. He reportedly conspired with a cyclist who placed the magnetic car bomb on the vehicle in which Tal Yehoshua was riding.  She was seriously wounded, and her driver and two others in another vehicle were injured in the explosion.
Kazmi claimed he is a journalist writing for Iranian media.
Israel has blamed Iran and Hizbullah for the attack, which occurred on the anniversary of the death of Hizbullah mastermind terrorist Imad Mughniyeh.
Another attempted terrorist attack against Israelis was foiled in Georgia on the same day, and Israel charged that Iran was behind both attacks as well as the foiled bomb plot in Thailand in February.
A journalist-historian has claimed in a report filed with Al Jazeera that the Indian blast was actually carried out by Israel in order to encourage India, which imports oil from Iran, to side against the Islamic Republic.
Fareth Porter based his claims on a theory that the bomb was of low intensity and did not contain deadly shrapnel. He argued that Yehoshua's ability to get out of the car by herself indicates the entire operation was an Israeli plot.
She told media after the blast that she escaped more serious wounds, or even death, by fleeing the vehicle as soon as she saw the motorcyclist approaching.