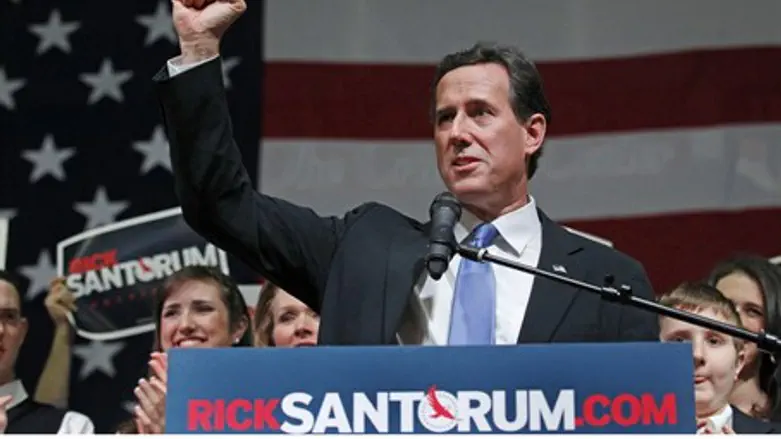 Santorum campaigns in the key state of Ohio
Reuters
The Super Tuesday primaries in the United States presented more than one of the Republican presidential hopefuls with chances to win, but Mitt Romney and Rick Santorum appear to be the big winners.
According to a CNN projection, Mitt Romney will win three states, while Rick Santorum will win in Tennessee, Oklahoma and North Dakota. Newt Gingrich also scored a vital triumph in Georgia.
Results are accurate as of 10:30 p.m. Eastern Standard Time.
Romney easily won as expected in Virginia, Vermont and Massachusetts, the state where he served as governor and considers home, CNN reported.
In excerpts of his planned remarks to supporters later Tuesday night in Boston, Romney focused on criticizing Obama.
Citing unemployment that remains above 8 percent, Romney's remarks say the figure is just an "inconvenient statistic" in the eyes of the Obama administration.
"But those numbers are more than data on a spreadsheet; they are worried families and anxious faces," Romney will say, according to the excerpts. "And tonight, I'd like to say to each of them: You have not been forgotten. We will not leave you behind. Our campaign is on the move. And real change is finally on the way."
Earlier this week, Romney warned that Iran would obtain nuclear weapons if Obama is re-elected for a second term in the November elections.
"It's pretty straightforward in my view," Romney told supporters in Georgia. "If Barack Obama is re-elected, Iran will have a nuclear weapon and the world will change if that's the case.
"This is a president who has failed to put into place crippling sanctions against Iran," said Romney, adding that Obama has also failed to make it clear "that it's unacceptable to America for Iran to have a nuclear weapon."
Romney said Obama had "failed to communicate that military options are on the table and in fact in our hand."
"I will have those military options, I will take those crippling sanctions and put them into place, and I will speak out to the Iranian people of the peril of them becoming nuclear," said Romney.
Meanwhile, Ohio, because of its status as a crucial battleground state in the general election, is considered the main prize in the Super Tuesday primaries, CNN noted.
Early results showed Romney and Santorum running almost even in Ohio. A CNN/ORC International poll released Monday indicates that Ohio was a dead heat between Romney and Santorum, with each grabbing 32 percent of likely GOP primary voters. Gingrich was at 14 percent and Ron Paul was at 11 percent.
Earlier Tuesday, Santorum said that the U.S. must demand Iran dismantle its nuclear program and destroy it if Tehran refuses.
"If they do not tear down those facilities, we will tear them down ourselves," Santorum said in a fiery speech delivered at the American Israel Public Affairs Committee conference.
"This is not bellicosity and warmongering," he added. "This is preventing the most radical regime in the world from having a weapon that could fundamentally change the security posture" of "all freedom-loving people in the world."
Santorum also took a swipe at Obama, saying he had turned his back on the Jewish state.
"I've seen a president who has been reticent," Santorum said. "He says he has Israel's back. From everything I've seen from the conduct of this administration, he has turned his back on the people of Israel."