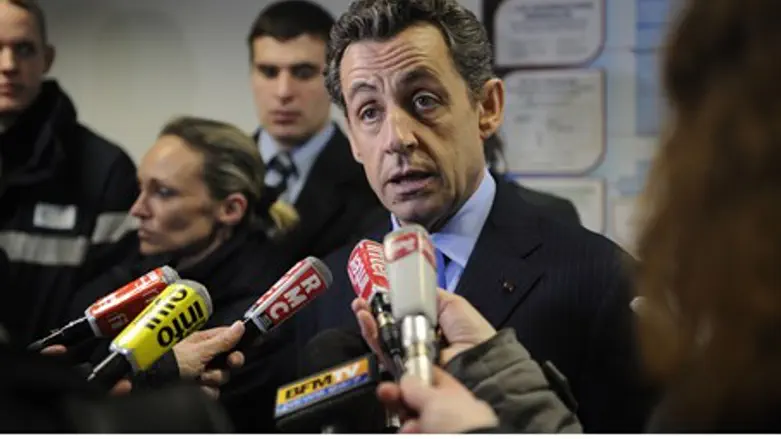 Nicolas Sarkozy
Reuters
French President Nicolas Sarkozy promised on Tuesday that if he is re-elected, his second foreign visit would be to Israel and to the areas controlled by the Palestinian Authority.
AFP reported that the purpose of the visit would be to push a European peace initiative.
"I hope that France, and behind France all of Europe, take the initiative so that 2012 can be the year of peace between Israel and the Palestinians," Sarkozy was quoted as having said in a television interview on his re-election campaign.
He added that his first foreign visit, if re-elected, would be to Germany, but that he would visit Israel and the PA within a "few days" afterwards to try to restart the peace process.
"I regret that Europe has not been more determined," Sarkozy said in the interview, referring to the stalled international attempts to revive the frozen peace process between Israel and the PA.
He expressed doubt that, given the elections in the U.S. this year, that the United States would be able to play its usual role as the main guarantor of the Middle East peace process in the coming months.
"There is also a presidential election in the United States," said Sarkozy. "President Obama, who is a very great president, won't take the initiative before he's re-elected -- and I hope he will be -- but there's a place for France and a place for Europe."
While Jordan recently hosted a series of "exploratory meetings" between representatives of Israel and the PA, the peace process remains frozen as PA Chairman Abbas continues to impose preconditions on negotiations.
Last week it was reported that Jordanian Foreign Minister Nasser Judeh is set to deliver a letter in which the government of Israel and Palestinian Authority detail their conditions for peace talks to resume.
The letter repeats the PA's previous demands, which are seen by Israeli officials as an excuse to forestall talks. These include a demand that Israel accept the indefensible pre-1967 lines as a basis for future borders, release terrorists who were imprisoned before 1994, and halt settlement construction in the 'disputed territories.'
The PA is also threatening to cancel all agreements signed after 2000 if Israel does not agree to their demands before peace talks.