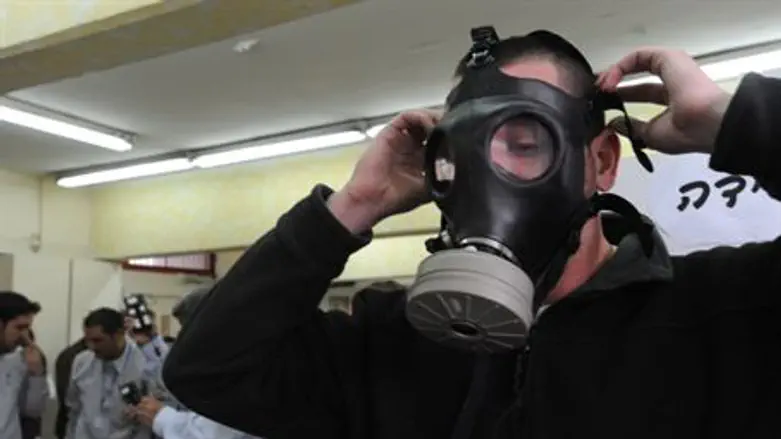 Man tries on gas mask (illustrative)
Israel news photo: Flash 90
For procrastinators in Israel who want to be prepared in the event of a war: Thursday is the last chance for Israelis to acquire a free gas mask and chemical attack defense kit. The vast majority of distribution stations, which have been open for the past two years, located in cities throughout the country, will stop operating at the close of business on March 1. Only six stations will remain open.
Officials report large crowds at stations over the past few days, as Israelis seek the government-supplied protective gear in the wake of increased tensions with Iran. Several stations have already shut down because they have run out of the gas mask kits, Home Front Security officials said.
Some 4 million kits have been distributed in the past two years, but officials estimate that only about 120,000 remain in stock. Budgetary issues prevented the Homefront Command from acquiring more kits, and ad campaigns during the period stressed that there was a limited supply of kits. It is estimated that at least a third of Israelis do not have kits right now, and unless more money is allocated to the program, they will have to purchase the kits themselves. At least NIS 1 billion (about $350 million) is needed to acquire more kits, but even if the money is found quickly, it would take at least several months to manufacture the masks according to IDF specifications.
At a recent Knesset discussion on Israel's preparedness for dealing with a possible chemical weapons attack by allies of Iran, the Homefront Command official in charge of gas masks, Lior Gabay, said that if they could turn back the clock, officials would probably have waited to distribute the kits until they were sure there was enough for everyone. For those who did not get a kit, he said during the session, "there is little they can do. There is a lot of good will in the organization, and we would like to help everyone, but we cannot make masks without the appropriate funds. I think we will have a hard time during an emergency event."