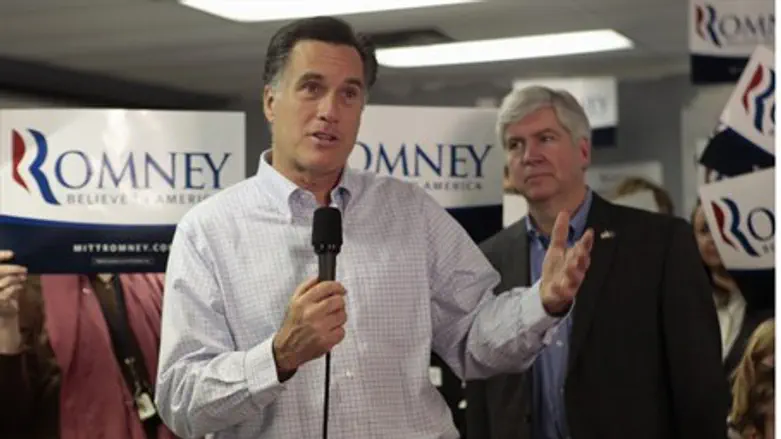 Mitt Romney
Reuters
CNN is projecting that Mitt Romney will win Tuesday's primaries in Arizona and Michigan, beating main challenger Rick Santorum in the Republican race for a presidential candidate.
In Arizona, exit polls showed Romney getting 43 percent while Santorum received only 28 percent, the network reported. This gives the former Massachusetts governor all of the state's 29 delegates in the winner-takes-all primary. The other two contestants, Newt Gingrich and Texas Rep. Ron Paul, were trailing behind Romney and Santorum.
In Michigan, meanwhile, Romney was ahead with 41 percent to 38 percent for Santorum, CNN reported. Paul got 11 percent and Gingrich received 7 percent, with 25 percent of unofficial returns counted. The state's 30 delegates will be allocated on a proportional basis.
Analysts have said that Romney needs to win Michigan, where he grew up when his father was governor, to assert his ability to overcome the conservative challenge from Santorum.
A Santorum victory in Michigan would be a major upset for Romney, CNN noted, and would give Santorum sustained momentum after his surge to the top of the polls earlier this month.
In Michigan's primary, all voters can participate regardless of party affiliation, and CNN reported that some liberal bloggers have been asking Democrats and independents to vote for Santorum, as a way of damaging Romney's chances of winning the nomination.
According to the report, early exit poll information in Michigan showed one in ten respondents were actually Democrats voting in the GOP primary, while six in ten were Republicans and the rest were independents.
Democrats who voted Tuesday told the network they didn't need much convincing to support Santorum in order to weaken Romney.
Santorum last week squandered an opportunity to cement his status as a Republican front runner and allowed the former front-runner Mitt Romney to gain ground at his expense at the Republican debate in Arizona.
Romney won the Republican caucuses in Maine earlier this month after his triple defeat in Minnesota, Colorado and Missouri. Rick Santorum won all three states.