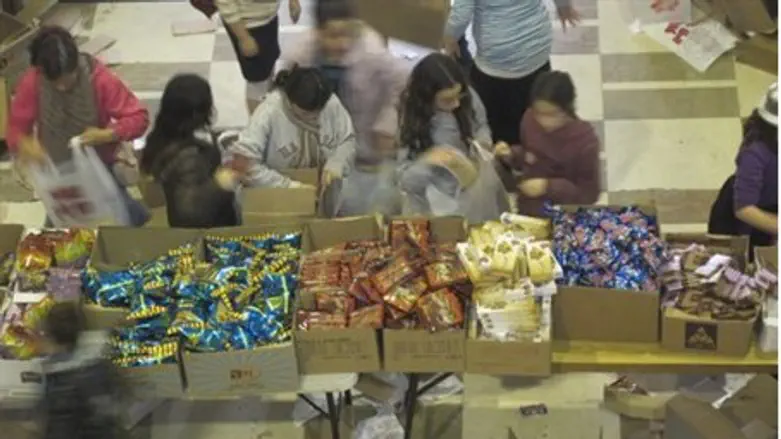 ZOA volunteers packing Mishloach Manot
Courtesy of ZOA
As the holiday of Purim approaches, the Zionist Organization of America (ZOA) Brooklyn Region, in coordination with the International Young Israel Movement, is planning to distribute 6,000 Mishloach Manot (gift baskets) to Israeli soldiers serving on bases in Israel, as part of an annual Purim tradition spearheaded by ZOA Board Member Rubin Margules.
Mishloach Manot usually contain sweet treats and are traditionally given to friends on the holiday of Purim.
Margules, president of ZOA Brooklyn Region, and a group of volunteers will take part in personally distributing the Mishloach Manot to base camps throughout Israel. The major effort is coordinated with the ZOA's Israel office and the Military Rabbinate.
All products in the gift baskets are bought in Israel and assembled by volunteers. The packages contain a variety of food and drink. Donors will also be able to purchase water backpacks for the soldiers.
Dozens of American Jewish schools and congregations will participate in the ZOA Purim IDF Project and will either be helping to raise funds or will be encouraging students to write personal notes and letters to the soldiers, expressing gratitude for their defending the biblical homeland.  
The ZOA project is now in its 12th year and began when Margules visited an IDF Commissary and inquired about what can be done for soldiers.
"The Mishloach Manot campaign is a terrific way for American Jews to connect with Israel and show our support," Margules said, noting the project has raised more than $250,000 since its inception.
"If there was a Guinness Book of World Records for the most Mishloach Manot baskets delivered, I think we'd win," he said. "You can't measure the incredible gratitude, appreciation and endless thanks that soldiers display when they receive their Mishloach Manot and read the letters of thanks. I get to distribute the baskets myself meet the soldiers and experience their heartfelt appreciation.It's the least we can do to give back to those who risk their lives for Israel and it's what keeps me coming back year after year."
According to Jeff Daube, Israel's ZOA office director, "Each year, Rubin Margules and ZOA Brooklyn Region's Purim project, sends a message to soldiers that they have lots of friends in the U.S. The soldiers just love hearing that we are watching their backs.
"Planning and coordinating the ordering, packing and distributing thousands of packages for Israel's soldiers together with the enthusiastic volunteers, and seeing the soldiers reaction makes me feel wonderful about this Zionist program," added Daube.  "We appreciate all the work and support this program continues to receive."
This year, the ZOA Purim Project will be expanded to more IDF bases. In addition, 500 soldiers will be treated to a concert at the new Ariel Center for the Performing Arts.
Click here for more information on the ZOA Purim Project and in order to make a donation to sponsor one or more Mishloach Manot.
Photos courtesy of the International Young Israel Movement.