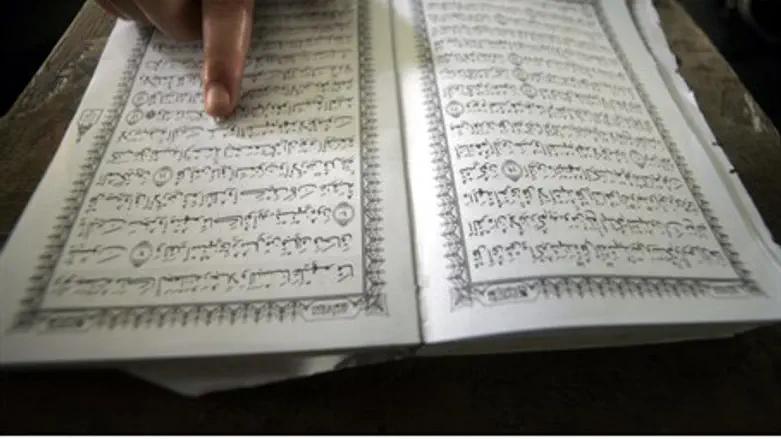 Koran (illustrative)
Israel News photo: Flash 90
Islamic rage and terror attacks have prompted NATO, the United States, Britain and France to pull hundreds of their advisers out of Afghan ministries in the wake of ongoing retaliation over last week's burning of the Islamic holy text, the Koran, by U.S. soldiers north of Kabul.
United Nations officials are also stepping back, and moving international staff to a safer location, according to a statement by the organization.  The U.N. said the evacuation was intended "to put in place additional arrangements and measures to make sure the office can continue to operate in safety," but added staff would remain in the country.
The announcements came shortly after high-profile execution in which two military advisers were found dead at the Interior Ministry on Saturday, each with gunshots to the back of the head.
In the latest attack, a Taliban terrorist rammed a car filled with explosives into a gate at the NATO military airport near Jalalabad shortly after daybreak Monday, killing nine Afghan citizens. Among the dead were six civilians, two airport guards and a soldier, according to a provincial police spokesperson. No international forces were killed in the attack.
"This attack is revenge against those soldiers who burned our Koran," announced Taliban spokesman Zabiullah Mujahid in an email to reporters.
The Taliban has been known for its strong ties to the international Islamist Al Qaeda terrorist organization, with whom it sometimes teams up for special assassination or other terrorist operations, such as the murder of Pakistan's former Prime Minister Benazir Bhutto.
The unceasing Islamic firestorm comes as revenge for the burning of copies of the Koran by U.S. soldiers at the Bagram air base. Numerous media have reported the incident as "disposal" of the books, but have not explained the reasons the texts needed to be discarded, nor why they required burning if they did.
U.S. officials have called the burning a mistake and issued repeated apologies, and Afghan President Hamid Karzai has urged his citizens not to allow the Taliban to exploit their indignation to ignite violence; but apparently to little effect.
Thus far, some 40 people, including four U.S. soldiers, have died in the protests and related terrorist attacks.