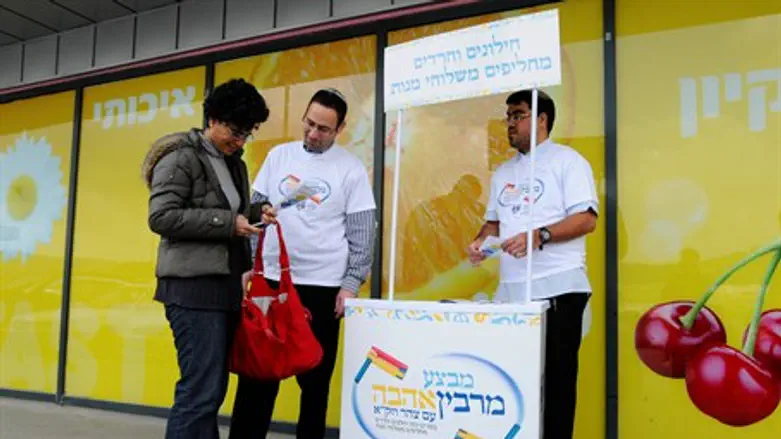 Tzohar and ZAKA team up to bring Israelis clo
Yossi Zeliger, Courtesy of Tzohar
With the holiday of Purim just around the corner, the Tzohar Rabbinical organization and the ZAKA organization for identification of victims of tragedies have come up with an exciting project.
The joint initiative will see hareidi-religious and secular Israelis giving each other "Mishloach Manot", the food packages, usually containing sweet treats, that are traditionally given to friends on the holiday of Purim.
Participants in the project will be personally delivering the package to one another's homes, and the organizers believe that having the package delivered directly, without intermediaries, will make a necessary connection between hareidim and secular Israelis, during the present tense period.
Tzohar and ZAKA explained that "throughout the year we recognize one another through predictable patterns such as clothing, place of residence and beliefs. The masks that are put on during Purim cover these external elements, knock down the separating barriers and reveal the simple truth: We are members of a single nation and by giving packages to one another we open the door to real and honest dialogue throughout the year."
"It's a very positive project for Purim, to have people get to know each other and not through newspapers and not through the news," Avraham Kop, ZAKA Commander in Beit Shemesh, told Arutz Sheva. "The project is very important. Each person can come and give a mishloach manot in my home and I, too, on Purim will go to the homes of secular families in Beit Shemesh, give them mishloach manot and show them the positive side, that one person loves the other."
Yair Godiner, who manages the project on behalf of Tzohar, said that whoever wants to join the project can dial *9515 in Israel, and operators will take down their information. The project managers then to coordinate between the hareidi family and the secular family so that on the day of Purim itself the mishloach manot can be delivered to the homes.
He noted that the project has been received with great enthusiasm so far.
"We can already say we've started sending out e-mails to Tzohar's married couples and to ZAKA volunteers," said Godiner. "We already have dozens of people who approached us and want to sign up and want to join. The people of Israel are happy to be with another."
Kop added, "Speaking as a resident of Beit Shemesh for the past 17 years, the rift can be repaired. The rift is more in the media, more in politics, but on a daily basis people can come to Beit Shemesh and the rift won't be seen. It's not such a big rift. It's more of a rift among politicians and a few extremists on both sides. There are extremists on both sides."
As Godiner summed up, "The main goal of the holiday of Purim is to increase love and brotherhood between people, and that's why we specifically chose the holiday of Purim to come out and give mishloach manot to one another, to fulfill the commandment halakhically. Today it is customary that each person gives to his family and to those who are close to him, but here's the big opportunity to give to the people of Israel at large and by doing that to take off the masks and bring the people of Israel together."