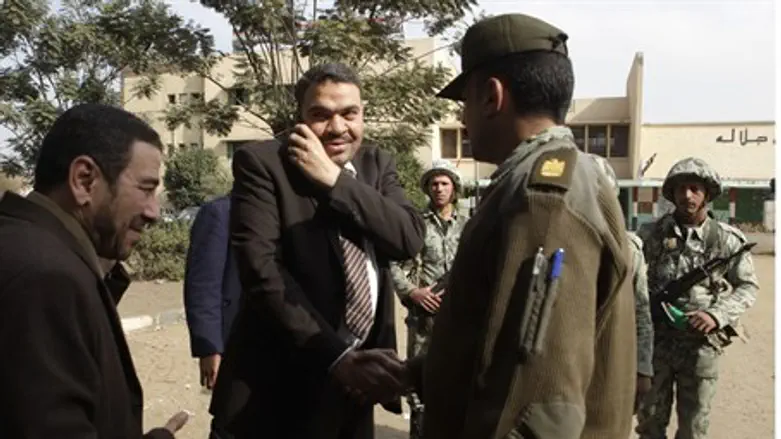 Muslim Brotherhood candidate during election
Reuters
Egypt released final results in its elections for the upper house of parliament on Saturday, confirming that the Islamist parties are the biggest winners in the vote and now control both houses of the country's parliament.
A commission official was quoted by AFP as having said that the Muslim Brotherhood's Freedom and Justice Party (FJP) secured 105 seats in the parliament, which is called the Shura council. The Salafist Al-Nur party took 45 seats, while the liberal Wafd won 14 and the Egyptian Bloc eight. Another eight seats went to smaller factions, the official seat.
The vote, which began on January 29, was for 180 seats in the 270-seat chamber. The remaining third of seats are allocated by the head of the ruling Supreme Council of the Armed Forces (SCAF), Field Marshal Hussein Tantawi.
Electoral commission chief Abdel Moez Ibrahim told reporters on Saturday the turnout in voting for the Shura was not more than ten percent.
He added that many polling stations were empty on Wednesday, the final day of voting for the Shura, in sharp contrast to the long queues and active campaigning that marked the People's Assembly vote.
The first set of elections was held in the last quarter of 2011 for the Lower House of Egypt's Parliament. The Muslim Brotherhood's Freedom and Justice Party and Salafist Al Nour Party were the big winners of those elections as well, sweeping the majority of the seats in the Lower House of the Parliament.
A member of the once-outlawed Islamist Muslim Brotherhood was elected Speaker of the Egyptian Parliament last month.
Members of both houses of parliament will now choose a panel to draft a new constitution for Egypt.