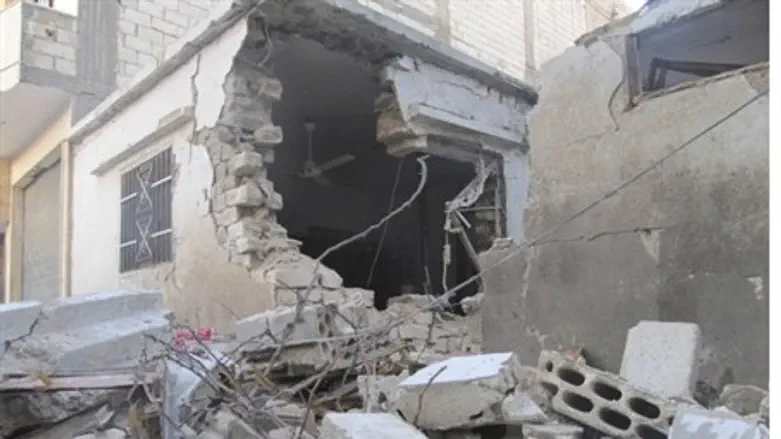 Damaged houses in Baba Amr, Homs
Handout photo / Reuters
A United Nations commission of inquiry has quietly submitted a sealed envelope with the names of Syrian leaders who could face a probe for crimes against humanity.
A report by the U.N.-appointed Independent International Commission of Inquiry on Syria, released Thursday, cited "a reliable body of evidence" and "reasonable grounds" that could substantiate the charges. The list handed in to the U.N. High Commissioner for Human Rights included Syrian officials that went as high as President Bashar al-Assad, according to sources in Geneva, where the U.N. Human Rights Council is based.
Last November, the U.N. Human Rights Council decided that Assad was guilty of crimes against humanity, after a three-member commission of inquiry ruled the Syrian leader must take responsibility for the actions of his military and security forces, which committed crimes against humanity including murder, torture and rape.
In the latest report, the independent commission of inquiry wrote, "A reliable body of evidence exists that, consistent with other verified circumstances, provides reasonable grounds to believe that particular individuals, including commanding officers and officials at the highest levels of government, bear responsibility for crimes against humanity and other gross human rights violations." 
Thousands of Syrian civilians have died in the 11-month anti-government protests that began with last year's Arab Spring uprisings that swept the Middle East, toppling at least four decades-long Arab regimes. The panel, citing a "reliable source," added that at least 500 children are among the dead.
Earlier this week, two foreign journalists were killed, including veteran American correspondent Marie Colvin, in the Syrian government assault on the Baba Amr section of Homs. Two other journalists were injured in heavy shelling by Assad forces, who fired more than 10 rockets at the house in which the reporters were holed up.
It is likely that Assad may not feel threatened, however, even if the U.N. Refers the matter to the International Criminal Court at The Hague. Syria is not a member of the ICC, so technically the Court has no jurisdiction over the country, or over the Syrian president.
Moreover, Russia may continue to protect Assad and block any U.N. move to refer Syria to the Court, as it has in the past.
Syrian opposition figures confronted Russian Ambassador to Israel Sergei Yakovlev over the matter during a meeting with Israeli Deputy Minister Ayoub Kara in his Knesset office earlier this week, via Skype.
Yakovlev courteously listened to what the Syrian activist had to say, but said little in response.