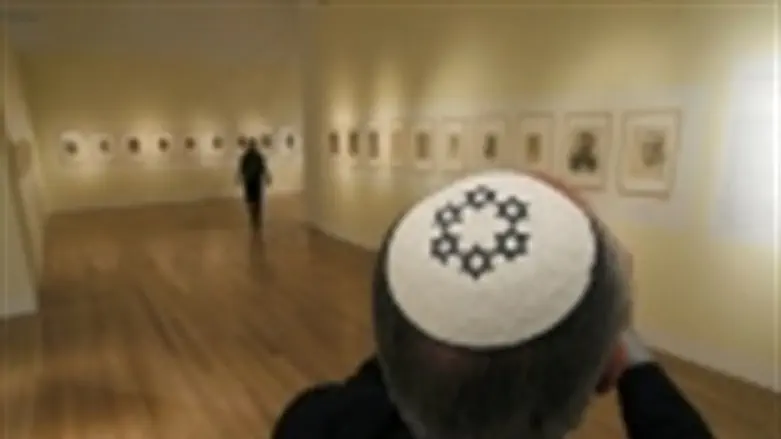 Holocaust Artwork
Reuters
Members of the Berlin Philharmonic will perform at the opening of an exhibition at New York University showcasing portraits of Auschwitz survivor, David Friedman, New York City public radio station WNYC reported.
In the 1920s, David Friedman worked in Berlin as a "press artist," who drew pictures of politicians and other prominent personalities to accompany newspaper articles. 
When the Nazi's invaded Germany and Czechoslovakia, the Gestapo looted his artwork and deported Friedman and his family to the Lodz ghetto in Poland, and later to Auschwitz, where his wife and daughter were murdered at the hands of the Nazis.
Friedman managed to survive by painting portraits of members of the SS and their families, and his work was utilized to abet Nazi propaganda efforts.
After the war, Friedman found refuge in the United States, began rebuilding a new life and remarried. He also returned to sketching. This time, however, instead of his illustrations portraying SS guards and their families, his sketches depicted scenes from Auschwitz and the Lodz Ghetto.

"He was saved because these murderous SS men were also lovers of music and art," his daughter, Miriam Friedman Morris, stated.
His work was forgotten and she "set out to find his pre-war works and rescue them from obscurity," the WNYC reported.
Friedman told his daughter that his work was lost, taken by the Nazis, but when he died  in 1980's, his daughter began searching for his lost sketches.
Eventually, with the help of Detlef Lorenz, an expert on German press artists of the era, she found many of her father's pre-war sketches.
Now the collection is coming to New York and the Philharmonic is making Friedman's work "part of the image that the orchestra presents to the world," WNYC stated.  
"I'm like his spokesperson," Morris said. "He has the artwork, and I try to display it. The recognition that he didn't get in his lifetime, I feel he's getting it now."