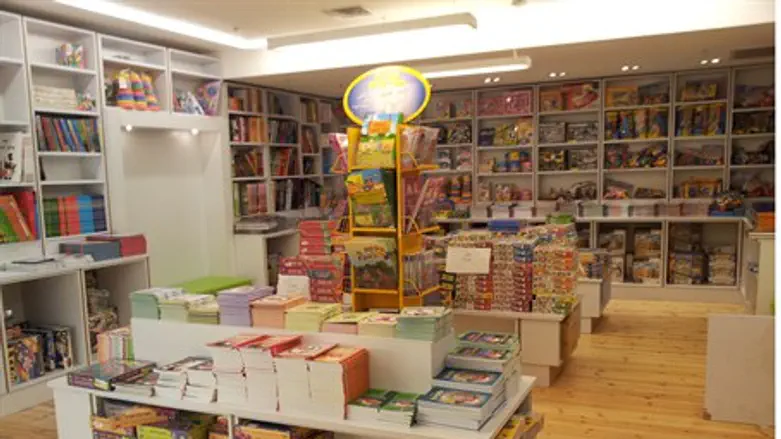 Feldheim Books
Efraim Moreno
Feldheim Publishing in Israel, which caters to the hareidi religious community, is in danger of collapse but may be bought out.
Its financial difficulties, reported Monday by B'Hadrei Haderim, are the latest in the book publishing and distributing industry that has been overwhelmed by online publishers and e-books.
Feldheim officials said it has asked for a stay in proceedings of financial claims against the company, and an industry source indicated that the Or Chaim publishing house is negotiating with Feldheim Israel to buy it out.
The stay in proceedings has not affected the operation of Feldheim's chain of book stores, at least for the time being.
The publishing company was founded in 1939 by Philip Feldheim and now is managed by his son and grandson, who have expanded the firm. His son operates the publishing house in Jerusalem, with several bookstores in the capital city in addition to other Israeli cities with a large hareidi religious population.
Feldheim is known for publishing high-quality books on Judaica and pioneered in adding fiction and non-fiction titles that suit religious readers to its range. Its stores feature books from other publishing houses as well as its own.
The news of its financial difficulties is a blow for authors and readers for whom Feldheim has been their favorite for marketing English language books geared for the orthodox Jewish community both in Israel and in the United States and elsewhere.
"This is very sad," one author told B'Hadrei Hareidim. "Feldheim is very well organized and a very serious company, and the book market will miss it. If it collapses, not only hundreds of workers will be affected but also thousands of readers."
Feldheim officials confirmed to Arutz Sheva the financial difficulties at its Israeli branch and added it will decide in the next few days between several possibilities it is examining for rescuing the company.