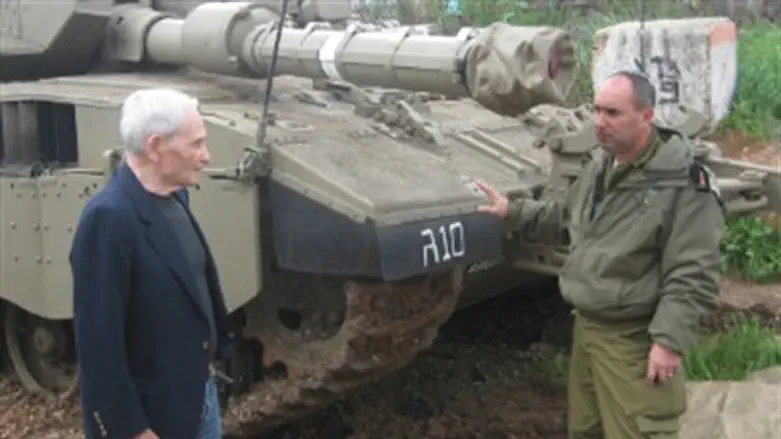 Bielsky visits IDF
IDF Website
The IDF's Galilee Group received a unique visitor last week - Aharon Bielski, the youngest of the Bielski brothers, whose exploits were recreated in the 2008 film Defiance starring Daniel Craig. As partisan fighters, the brothers saved over 1,200 Jews, whom they helped to survive in the forests.
Bielsky came to Israel to visit the Givati Regiment, in which he served during the War of Independence. Matan Galin of the IDF Website reported that Bielsky was warmly received by soldiers from the Givati Regiment and Armored Corps, who listened to his stories about the IDF 60 years ago. He also viewed a regimental exercise.
"No army in the world conducts itself as humanely as you do," he told the fighters. "The struggle that took place here and the price that was paid for a single soldier is unfathomable. In World War II, Stalin's son was held prisoner by the Nazis. Stalin refused to release a Nazi officer in return for his son."
According to the IDF Website report, Bielsky was surprised to find many kippah-wearing soldiers surrounding him. "As a guy from a religious family, every kibbutznik soldier I saw back then was like a gentile to me," he explained. "In my time there was not a single kippah-wearing soldier in the entire army. It is exciting to see that the number of kippah wearers in the army has grown so much. It is beautiful to see people of faith succeeding in taking part in military service."
Bielsky served in Battalion 51 as a field radio operator. After the War of Independence, he went to look for one of his brothers in Europe and after locating him immigrated to the United States together with him.