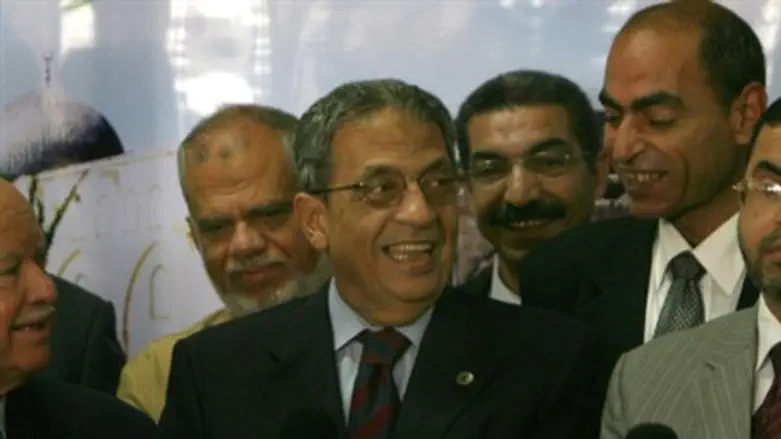 Amr Moussa
Israel news photo: Flash 90
Egypt's Supreme Constitutional Court announced on Sunday that the nominating period for presidential candidates will open March 10 and last four weeks, The Associated Press reported.
The announcement stopped short of announcing a date for the election, noted the report.
Farouq Sultan, the head of the court committee overseeing the vote, told reporters that a decision is expected soon on when Egypt will hold presidential elections, adding that balloting will take place over one or two days. Sultan added the announcement of the winner — even from a potential run-off — would be declared by the end of June, which suggests the vote could be held no later than early June.
AP noted that several leading figures already have expressed an interest in running for president, including former Arab League chief Amr Moussa, a former foreign minister under Mubarak and a popular figure, who has already begun campaigning,
Moussa recently rejected the possibility that Egypt will cancel the peace treaty it signed with Israel in 1979. He made the comments after the extremist Muslim Brotherhood, which clinched the majority in recent parliamentary elections in Egypt, threatened to cancel the peace treaty with Israel by putting the issue up for a referendum and letting Egyptians decide.
Other possible candidates for president include Ahmed Shafiq, a former air force pilot who served as prime minister at the height of the anti-Mubarak protests, as well as Mohammed Salim El Awa, a lawyer who has written a book on the concept of Islam and governance.
AP reported that Egypt's Islamists are also expected to present candidates. One, according to the report, is Abdel-Moneim Aboul-Fotouh, a longtime liberal within the Muslim Brotherhood who has gained support among the pro-revolution crowd. Hazem Abu Ismail, who draws his core support from the ultraconservative Salafis who form the second largest bloc in parliament, is also a potential candidate.
The most notable name which is absent from the ballot is that of Mohamed ElBaradei, who dropped out of the running last month.
In explaining his decision to withdraw from the race, the Nobel Peace Prize laureate and former head of the United Nations International Atomic Energy Agency said, "My conscience does not permit me to run for the presidency or any other official position unless it is within a democratic framework."
ElBaradei added that the ruling military council still had too much control over Egypt.