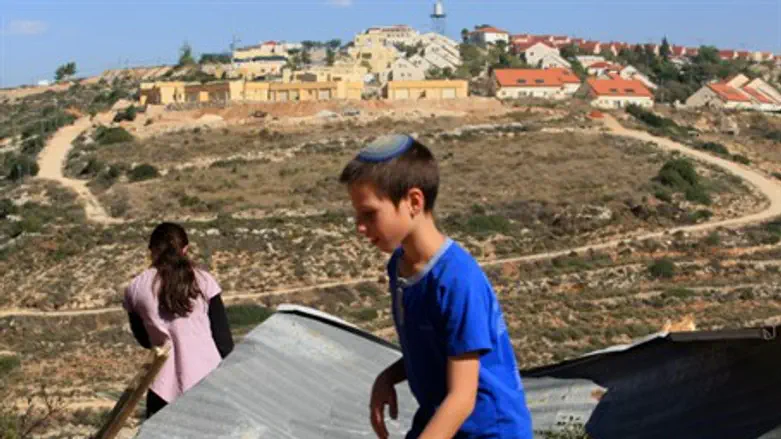 Youth build in Samaria
Israel news photo: Flash 90
The nationalist Mattot Arim (Group of Cities) group reveals which Knesset Members are true to their parties' stated Zionist ideology.
Notable by his absence from the list of nationalist MKs is Likud Minister Dan Meridor. He was rated at "zero" for his lack of support of a Jewish presence in Judea and Samaria. Meridor was hand-picked by Prime Minister Binyamin Netanyahu to run in the Knesset and was promised a Cabinet post despite his stated support of seceding part, if not all , of the strategic Golan Heights to Syria in return for a peace treaty.
Heading the list of nationalists is Likud's Ze'ev Elkin, who has not shied away from denouncing government demolitions of Jewish outposts, usually occuring in the middle night and accompanied by police brutality.
Mattot Arim awarded MK Elkin 47 for achievements. In second place was National Union MK Uri Ariel, followed by colleague MK Dr. Michael Ben-Ari. Their party is not a member of the government coalition,.
In fourth place is Rabbi/Prof. Daniel Hershkowitz of the Jewish Home party, followed by Danny Danon of the  Likud and Prof. Aryeh Eldad of the National Union.
Likud MKs Tzipi Hotovely, Finance Minister Yuval Steinitz, Education Minister Gideon Sa'ar, Vice Prime Minister Silvan Shalom and Culture and Sport Minister Limor Livnat were also on the list.
Mattot Arim singled out MK Eldad for his protests following an Arab terrorist attack in front of Hadassah Hospital.
The group complimented several MKs for helping to foil an attempt by Kadima MK Shaul Mofaz to issue a report by the Knesset Foreign Affairs and Security Committee favoring more concessions to the Palestinian Authority. Mattot Arim cited MKs Eldad, Elkin, Hotovely, Ben-Ari, Danon, Yisrael Beiteinu MKs Moshe Matalon and David Rotem,  Shas MKs Nissim Ze'ev, United Torah Judaism MK Uri Maklev, and Likud MKs Ofir Akunis and Tzion Pinyan.
Yisrael Beiteinu's Deputy Foreign Minister Danny Ayalon was noted for his "unprecedented attempts"  through YouTube videos to promote Jews' legal and historical rights to Judea and Samaria
MK Danny Danon received special notice for influencing the Home Center chain to stop charging residents of Judea and Samaria 100 shekels (more than $25) for deliveries.
It also cited Education Minister Sa'ar for introducing into the school system the activities on the subject of the "Connection of the Jewish People to Israel as their Homeland".  As part of the  "Visits in the Land of the Fathers" program, approximately 3000 students visited the Patriarchs' Cave in Hevron in one month.