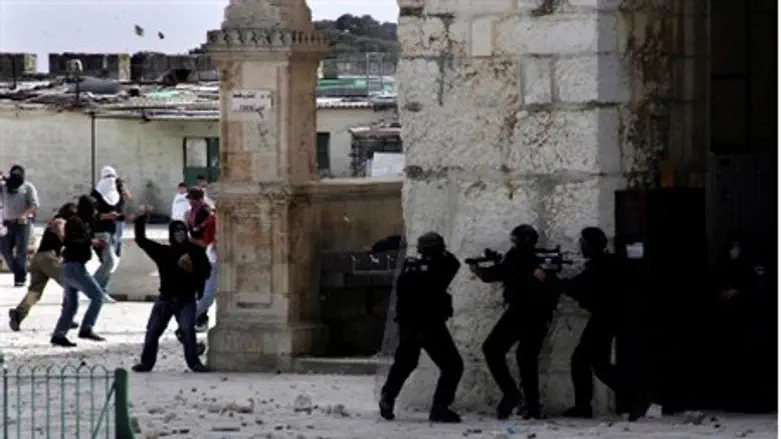 Arabs stone police, tourists on Temple Mount
Israel news photo: Flash 9 0 (archive)
Dozens of Arab stoned tourists and police on the Temple Mount Sunday morning, a day after a former Muslim Mufti warned of a possible "break-in" by Jews.
Police arrested three of the stone-throwers, and no one was injured. The holy site remains open to visitors.
Police closed the Temple Mount to non-Muslims one day last week after an apparent political prank that featured posters of Jewish Leadership faction leader Moshe Feiglin calling for the destruction of Arab mosques on the Temple Mount and building the Third Temple.
Sunday's violence may have been prompted by a sermon on Saturday by former Jerusalem mufti Ekrema Sabri, who warned that alleged Israeli extremists "might implement their threats to break into the Al-Aqsa mosque tomorrow (Sunday) morning."
He urged all Arabs and Muslims to save the Al-Aqsa mosque and support the people of Jerusalem in dealing with what he called the "Israeli conspiracy against the city and its holy places."
Ekrema Sabri was appointed by former PA Chairman Yasser Arafat as the Mufti of Jerusalem and also served as the supreme religious authority in the PA.
During the Al-Aqsa or Second Intifada, also known as the Oslo War that began in 2000, Sabri expressed support for terrorist suicide attacks, and police questioned him a year layer after he met in Lebanon with Hizbullah leader Hassan Nasrallah.
Anti-Jewish incitement by the Palestinian Authority has increased markedly in the past year as the PA continues to try to claim sovereignty over the site, the holiest place in Judaism.
Many Muslim clerics have preached that Jews have no connection to the site and that the First and Second Temples never existed.
The Palestinian Authority has removed tons of dirt from the Temple Mount compound in an effort to prevent discoveries that would reveal artifacts from the era of the Jewish Temples.