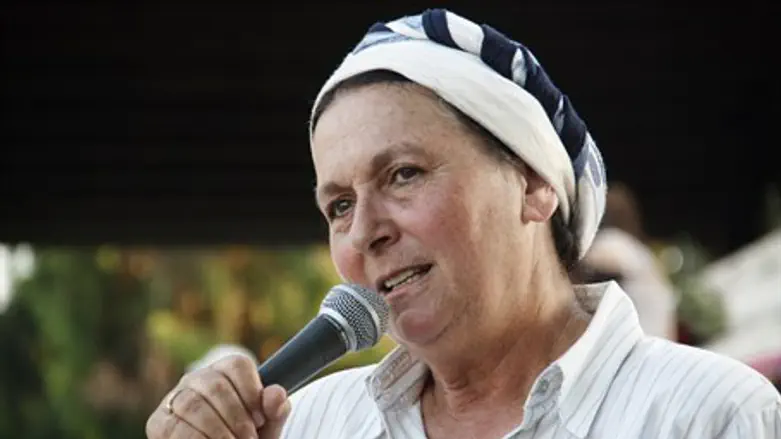 Daniella Weiss
Israel news photo: Hillel Maeir
Daniella Weiss, one of the leaders of the settlement movement in Judea and Samaria, criticized on Tuesday the agreement that was reached regarding Migron and called it an "agreement of submission."
On Monday it was reported that an agreement has been reached in the negotiations between residents of Migron and Minister Benny Begin regarding the planned eviction of residents and demolition of the structures that have been built on the site.
According to the agreement, alternative structures will be built at a permanent site not far from Migron, and the IDF will "consider positively" leaving existing structures intact.
The agreement will make it possible for residents to peacefully leave the site and avoid confrontation with demolition forces. The agreement is the result of negotiations in which the residents were represented by Attorney Yaakov Weinrot and Binyamin regional authority head Avi Roeh, vis-à-vis the government as represented by Minister Begin.
Weiss, however, rejected the agreement and told Arutz Sheva, "We did not gain two communities, this is a bad agreement. They wanted to extinguish the flames of the struggle against the division of the country."
She added, "There was no reason to move Migron even by a millimeter. Everyone knows that there was no claim of the land by any Arab owner, it was all bogus. There was no legal problem. They wanted to hurt one of the stronger communities in the region."
Weiss argued that the Migron agreement was designed to weaken the struggle of local residents against Prime Minister Binyamin Netanyahu's possible land concessions as part of a future agreement with the Palestinian Authority.
"They wanted to hurt the spirit of struggle, and that's unfortunate, that after what happened in Gush Katif people do not realize it," she said. "The spirit of resistance has been hit and most of the public knows it."
Weiss added that she is convinced new forces will rise up and resume the struggle.
"Migron was the defensive shield of the settlement enterprise," she said. "It had an important role in the struggle. But I'm sure other forces will rise up. We will not wait for Netanyahu's bulldozers, the youth will wake up and rise up and we will continue to build dozens of new communities on the map of Judea and Samaria."