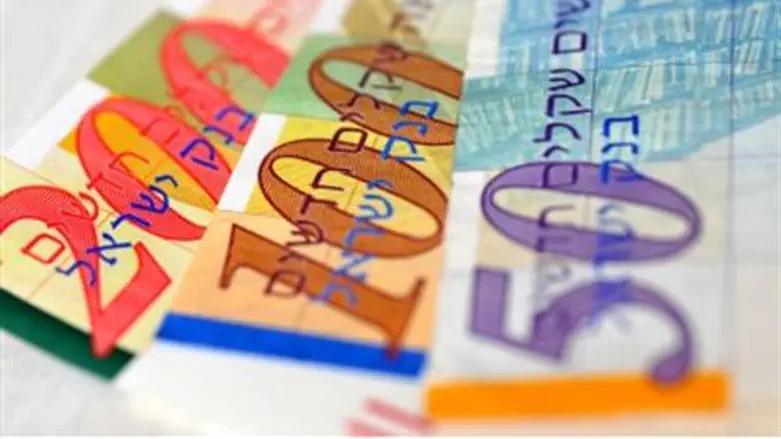 Money - it is losing its value?
Israel news photo: Flash 90
The International Monetary Fund (IMF) warned Israel on Monday of potential economic instability, AFP reported.
According to the report, the IMF said the instability was due to the high unemployment and deep poverty among Arab-Israelis as well as hareidi-religious Jews. The warning was made in an IMF report on the Israeli economy.
"Severe poverty is concentrated in these groups," the IMF report was quoted as having said, adding that only 40 percent of hareidi men have jobs, and only 20 percent of Arab-Israeli women are employed. The report noted that their wage levels are low compared to other Israeli groups.
The IMF explained that since both the Arab and hareidi populations in Israel are expected to grow significantly over the next few decades, the possibility of economic instability increases.
"As these groups are set to grow to half of the entire population in 30 years, up from a quarter now, these participation issues are macroeconomic in scale," said the report. "Both communities want work, and the realization of that goal should be encouraged."
The IMF also said that if employment levels, wages and productivity levels in both groups could be brought up to national averages, it would give a 15 percent boost to economic output and a provide strong injection for government revenues.
The Fund recommended that the Israeli government help provide more basic child care and transportation in Arab areas, and include hareidi men in the armed forces "in ways that support their employment and productive potential."
"Both groups also need their particular education requirements to be addressed, notably equalization of education provision at all levels in Arab-Israeli communities with that elsewhere, and focused provision of adult education to address hareidi needs," the report said.
The IMF's warning echoes comments made by Bank of Israel Governor Prof. Stanley Fischer two weeks ago.
Regarding the hareidi population, Fischer said that "the continued growth in the population which is not participating in the labor force can not last forever."
He said that there are "positive trends" in the hareidi community, such as the fact that many of them attend higher education institutes.
Fischer also noted that the poverty rate was higher in the Arabic speaking community and amongst full time yeshiva students as opposed to other Israelis.