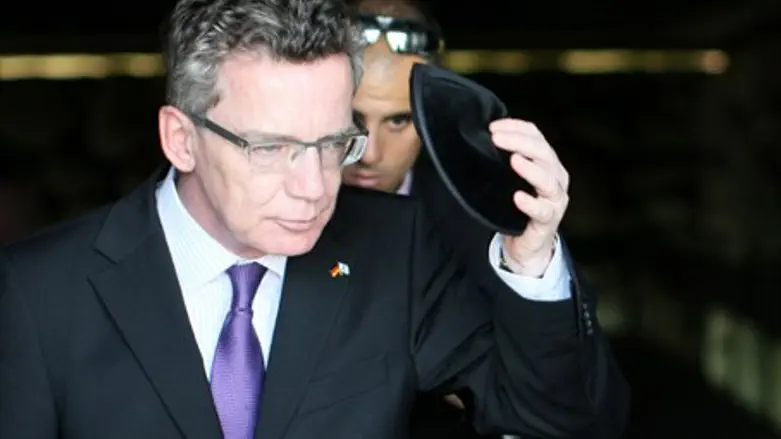 German Defense Minister Thomas de Maizière du
Israel news photo: Flash 90
Germany's Defense Minister, Thomas de Maizière, warned on Sunday against an Israeli attack on Iran's nuclear facilities.
In an interview with the German daily Frankfurter Allgemeine Zeitung, Maizière said he believes an Israeli attack on Iran is unlikely to achieve its goals, adding that such an attack may have severe political consequences for all countries involved.
The German minister added, however, that as far as he knows such an attack is not on the agenda at the moment. When asked about recent remarks by U.S. Defense Secretary Leon Panetta that there is "a strong likelihood" that Israel will strike Iran in April, May or June, Maizière said the remarks are "a journalistic invention." He added that he spoke with Panetta on this issue and that he had never made such comments.
Panetta later would not deny the report in the Washington Post when asked about it, saying, "I consider what I think and what I see about the region as belonging to me and not to anyone else."
Maizière's remarks reflect recent concerns and speculations that Israel may launch a pre-emptive strike on Iran's nuclear facilities. Britain's Deputy Prime Minister, Nick Clegg, also recently expressed concerns over a military conflict with Iran over its disputed nuclear program.
French President Nicolas Sarkozy warned last week that military action was no way to deal with nuclear-minded Iran.
Sarkozy told France's main Jewish group that "the solution is never military. The solution is political, the solution is diplomatic, the solution is in sanctions."