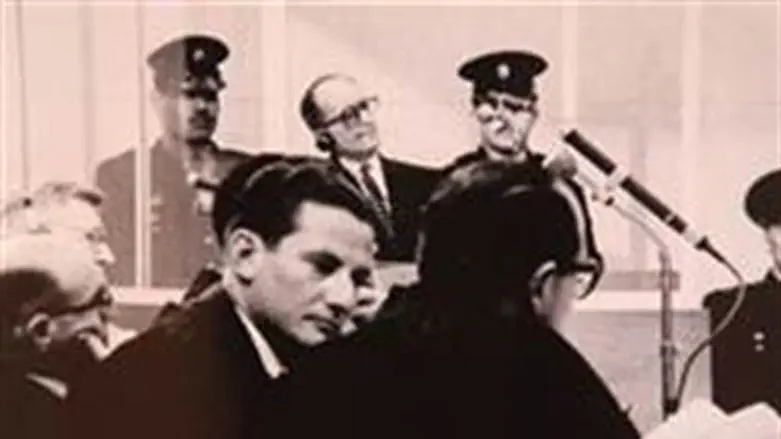 Eichmann trial
Israel news photo: Flash 90
This coming May will mark 50 years since the man who hanged Nazi war criminal Adolf Eichmann – Shalom Nagar – pushed the button that sent the killer to his own death.
"It was 9 o'clock in the evening," Nagar told the weekend edition of the Hebrew-language Ma'ariv newspaper. "We placed Eichmann on two planks. The rope came down from the ceiling. Everything was organized.
"My commander told me, 'Come Shalom, put the rope on him. We put the rope around his neck. We wanted to cover his eyes. We gave him the cover. Eichman didn't want it.
"He said in German, 'There's no need.' He made a gesture with his hand.
"The commander told me to press the button. I stepped up to the table and closed the curtain. I pressed. The planks opened.  Eichmann dropped.
"I heard the noise of the planks and the gurgle of choking," he said.
The experience of executing Eichmann was extremely traumatic for the young officer. Nagar and his commander descended to remove the body after Eichmann was dead, a gruesome process he has never forgotten.
Nevertheless, Nagar said, murderers like Eichmann – and the
terrorist who slaughtered the Fogel family
in the Samaria town of Itamar – deserve such a death. He had hoped that Israel would sentence the murderer to death.
"I watched the proceedings on television," he said, "and I remembered Eichmann. I thought to myself,'Such a person deserves to be hanged. If they were to ask me to do it, I would be happy to oblige.'"