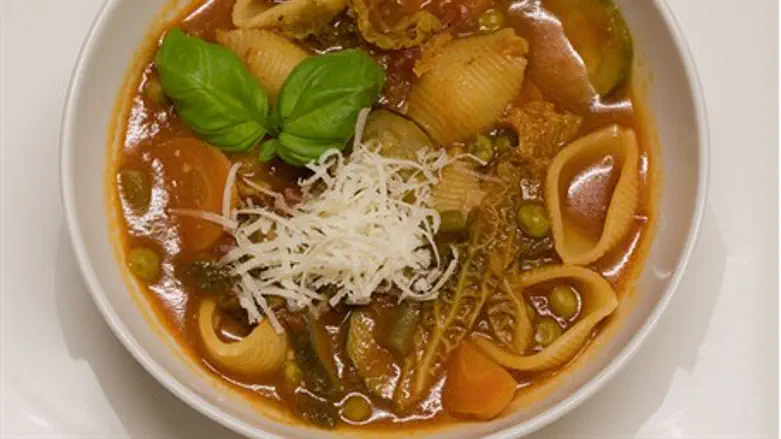 Homemade Ministerone
Julie Anne Workman under CC 3.0
I really do love using my crockpot in the winter.  Not only do I come home to a warm nourishing meal, I also come home to a house that smells great.  Crockpot cooking is also a much safer way to cook large beans as you don't have to leave the stove on for long periods of time.  (Maybe it's my own anxiety, but I'm always afraid that I will forget that the stove is on and accidentally burn down the house.)  
Smaller beans, such as the adzuki beans and the mung bean are wonderful summer beans as they require under an hour cooking time.  Larger beans such as the kidney  bean, garbanzo bean,  and of course the fava bean require much longer cooking times and are much more appropriate for the winter where it is appropriate to keep a dish simmering for even an entire day.
Crockpot cooking also happens to provide an excellent solution for "working mom's" who are sometimes the last ones to walk through the door.  Either prepare the food in the morning before leaving, or if your morning are just too busy, prepare all of the ingredients the night before and then just plug-in the crockpot the following morning.  It's like magic!  Your family has a  healthy nourishing meal without your even being home!
The recipe below is for minestrone.  Minestrone is a hearty Italian vegetable soup which is essentially a whole meal.  The soup has red kidney beans which are a wonderful winter food as they nourish the kidneys, the organ that should be strengthened in the winter.  Please note how the recipe includes, white, orange, and  green vegetables.  When all  three colors of  vegetables are in a dish, you can be sure that the dishl will be balanced, both with regard to nutrition, as well as with regard to flavor.
Ingredients:
1 onion, diced
2 cloves garlic, diced
1/4 cup kidney beans, soaked overnight
1/4 cup lentils
4 carrots, diced
2 parsnips, diced
1 celeriac (celery root), diced
1 broccoli stalk, peeled and diced
1 sweet potato, diced
2 tomatoes, peeled, seeded, and diced
4 liters water
1/8 cup brown rice
turmeric
1 bay leaf
salt
pepper
Pesto:
1 bunch basil
2 tbsp roasted pine nuts
2 cloves garlic
4 tbsp olive oil
juice of 1/2 lemon
To prepare the soup, place all of the soup ingredients, other than the salt, in a crockpot.  Set the crockpot to  low and allow to cook for 8-12 hours.
Prepare the pesto by pureeing all of the ingredients together in a food processor until you have a smooth paste .  Set aside.
Add the salt and the pesto to the soup a few minutes before serving.
Serve hot.  Serves 6-8.
Note:  When beans are cooked with salt the skin doesn't soften and they remain hard.  It is preferable to add the salt only after they are at least slightly cooked.
Sima Herzfeld Navon is a Nutritional Healer and teaches Healthy Cooking Classes.