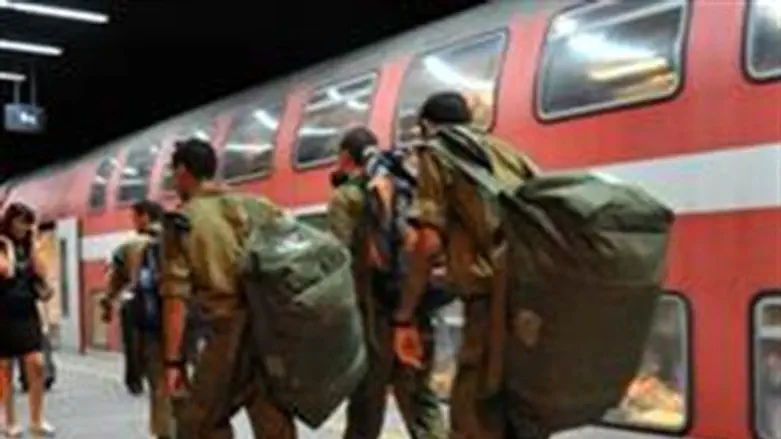 Soldiers commuting
Flash90
IDF officials say there have been at least five attempts to kidnap soldiers in Israel's north since the Gilad Shalit was released by Hamas on 18 October 2011.
Israel's government released 1,027 terrorists in exchange for Shalit who was held in Hamas-run Gaza for over five years. The terrorists released were responsible for a collective 569 Israeli deaths.
The deal resulted in Hamas declaring 'victory' over Israel and declaring a new drive to kidnap Israeli soldiers.
"You can see a direct correlation between the return of Shalit and kidnapping attempts," IDF Northern Command Provost Marshal Lt Colonel Nir Golan told Israel's News 2.
"The terrorist organizations know that Israel is willing to pay high prices for the return a soldier and their motivation to kidnap a soldier is very high," Golan added.
The IDF has been very concerned about terror groups kidnapping a soldier. IDF are very much concerned kidnapping. Recently, military police have staged their own kidnappings of soldiers seeking rides on the roadside to drive home the need for vigilance.
However, Golan says there are still many soldiers who still hitch-hiking, "It is especially noticeable in places where public transportation is infrequent or non-existent."
Ministry of Defense Operations Director Maj. Gen. Shmulik Calmi said, "There are many disturbing trends and incidents that indicate an intent to kidnap our soldiers and we continue to refine our procedures.
"Unfortunately, as disturbing reports as the reports are, they are very common and we are quite used to it," he added.