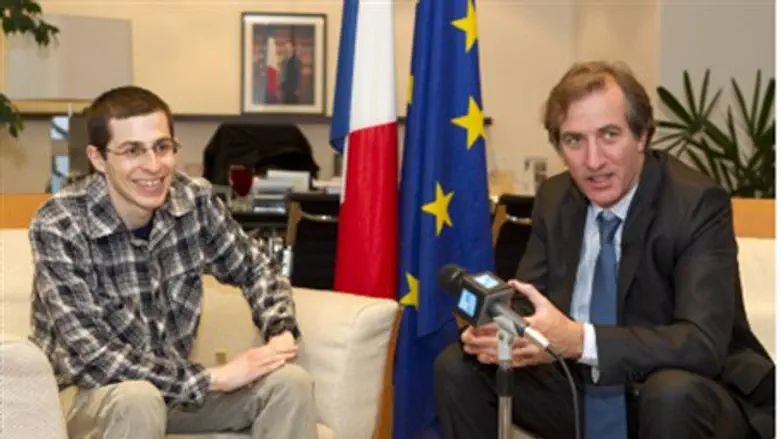 Gilad Shalit w/ French Ambassadr to Israel Ch
Israel news photo: Flash 90
Former kidnapped IDF soldier Gilad Shalit flew to Paris Wednesday to meet with French President Nicolas Sarkozy. He and his parents, Noam and Aviv, are citizens of France.
The soldier, whose freedom was secured last October in a deal to release 1,027 Palestinian Authority terrorists from Israeli prisons, met with Sarkozy at Elysee Palace.
The French president made a number of diplomatic efforts on his behalf to pressure the Hamas terrorist rulers of Gaza into freeing the kidnapped soldier. He felt grateful and proud, he said, to learn that Sarkozy had referred to him as a "son of France."
Shalit and his parents are also set to be honored Wednesday night at the annual dinner for the Representataive Council of French Jewish Institutions (CRIF). However, the younger Shalit himself will not be in attendance at the affair, said his family, as "his health does not allow it."'
The young soldier was held in captivity from June 2006 until October 2011 after being kidnapped by operatives from Army of Islam, Popular Resistance Committees and Hamas terrorist organization. Last month, Gilad thanked Sarkozy and the people of France for their efforts on his behalf and their support of his family through those years.
Many of the terrorists who were freed in the exchange deal have reneged on their agreement not to return to a life of violence and terrorism. As a result, Israeli security forces have begun to re-arrest those who have abrogated their contracts.