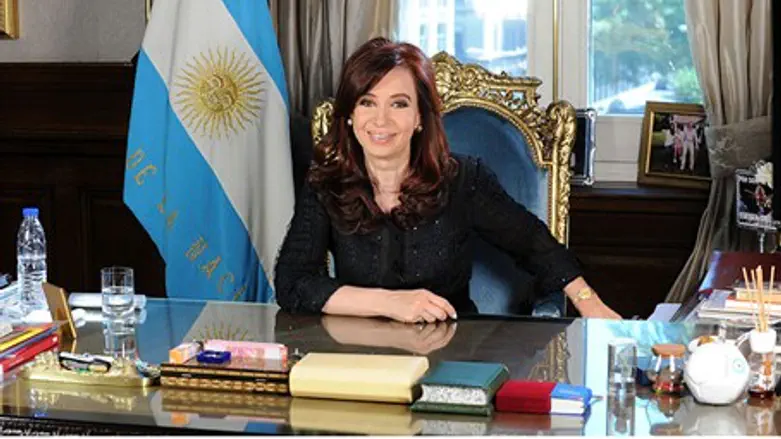 Cristina Fernández de Kirchner
Presidency of Argentina under CC 2.0
Argentina plans to make a formal complaint to the United Nations over British "militarization" of the Falkland Islands, the BBC reported Tuesday.
Argentine President Cristina Fernandez said Britain's recent actions were a "threat to international security." Britain announced it was sending a destroyer, HMS Dauntless, to the Falkland Islands, which Argentina calls the Malvinas.
However, Argentine ire was primarily raised by the inclusion of Prince William, who serves as a helicopter pilot, in the task-force, which they called a "provocation." London described it as a routine deployment, but it has heightened tensions as the 30th anniversary of the Falklands war approaches.
On 2 April 1982, Argentina invaded the Falkland Islands, claiming to have inherited them from Spain. The UK had ruled the islands for 150 years, which prompted then-Prime Minister Margaret Thatcher to order them liberated.
On June 14, after 74 days of heavy fighting, Argentina surrendered and Britain once again controlled the islands. During the fighting, 255 British and 655 Argentine servicemen were killed, as well as three Faklands residents.
In recent months, Argentina has once again been agitating for sovereignty over the islands and intimated another war could erupt if it doesn't get its way.
Fernandez's government has stepped up its diplomatic offensive in the UN General Assembly and its Committee on Decolonization to force London to sit at a negotiating table. "No one should expect of us gestures out of politics and out of diplomacy. We are people who suffer violence too. We are not attracted to war games and weapons," she said on Tuesday.
But calling the Falklands the "cause of South America," Fernadez also indicated peace with the UK was at risk if Prime Minister David Cameron rebuffed her demands.
"I ask the Prime Minister to give peace a chance," she said.