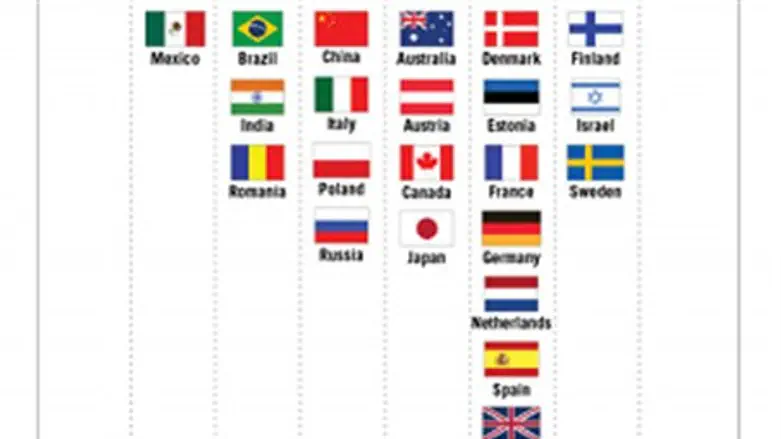 Cyber Defense Report raitings 2012
Israel news photo: SDA, McAfee Global Cyber Readiness report
Israel is the focus of tens of thousands of cyber attacks per week, according to an Internet security expert quoted in a new report on cyber security.
The report quotes Isaac Ben-Israel, senior security adviser to Prime Minister Binyamin Netanyahu, who said that cyber security is about "securing different life systems regulated by computers; In Israel, we realized this 10 years ago."
According to Ben-Israel's calculations, Israel is hit with 1,000 cyber-attacks every minute, which he divides into a hierarchy of threats.
Israel leads the world with Finland and Sweden, according to the report, Cyber-security: The Vexed Question of Global Rules, published Monday by the Security & Defense Agenda (SDA), a Brussels-based security and defense think tank, together with the McAfee company. 
"The hacktivist group Anonymous carries out lots of attacks but they don't cause much damage," Ben-Israel told the think-tank. "The real threat is from states and major crime organizations."
In order to ensure the country is well protected, said Ben-Israel, a list of 19 major infrastructures was drawn up in 2002. On the list were things like power production, water supply, banking and other services of central importance. "We faced a legal problem - how do you force the private sector infrastructure to protect themselves against cyber-attack? So we changed the laws," Ben-Israel explained.
The Tel Aviv University professor noted that few opposed the measures, realizing the importance of the issue. The think tank used the analogy of Israel's building code that requires any new house or apartment to include at least one room that meets criteria for a bomb shelter.
"People accepted this law because of our experience with Scud missiles in 1991," he said. "The threat was real and people felt it was real. It would have been unimaginable to establish the Patriot Act before 9/11. Once people in the street realize that terrorism is very real, they accept things," he pointed out.
He pointed to Israel as a model for effective collaboration between industry, defense and academia on how to attack the legal, political and societal issues raised by cyber attacks -- but noted "there is still a lot to do."
One of the things Israel did was to create a Cyber Warfare Administration to combat cyber terrorism.