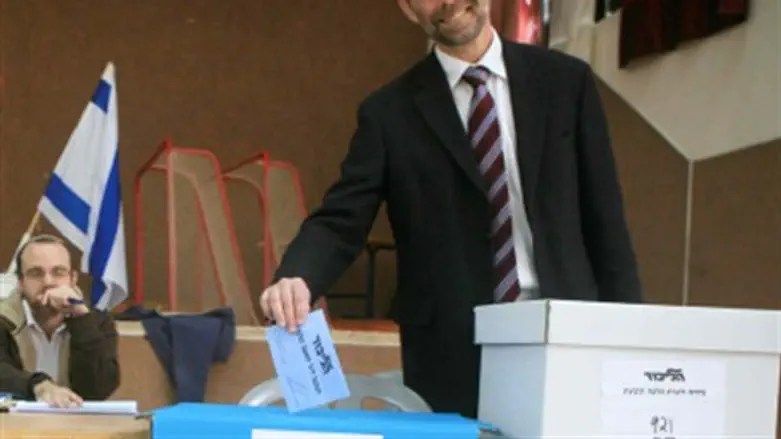 Moshe Feiglin Votes
Flash 90
Prime Minister Binyamin Netanyahu's main rival for the leadership of the Likud asked for a two-hour extension in the party's primary voting, which are slated to end at 10:00 PM (GMT+2) on Tuesday.
Earlier on Tuesday, Moshe Feiglin  voiced concerns about a deliberate campaign to prevent his supporters from voting as he surges in the Likud polls.
Feiglin cited a lack of proper voting materials at ballot boxes in Judea and Samaria, which were preventing Likud members from voting at those polling places where his Manhigut Yehudit, or Jewish Leadership, faction of the Likud has a strong contingent of voters.
Most polling places in Judea and Samaria were still closed at noon.
Feiglin said, "As always, part of the mess is deliberate and part of it is from lack of organization. We remain determined and call on the voters not to be broken up. The determined side will win." 
While Feiglin does not expect to win the election, he could garner a third of the votes or more – which would have a dramatic impact on the formation of the Likud in future Likud votes.
Analysts say it would also make it difficult for Netanyahu to deny him a seat in the Knesset as happened after the last national election.
In the last Knesset elections Likud garnered 27 mandates. Feiglin, who was ranked 20 on the Likud list, was removed from his spot through a technicality and placed so far down the list that his taking a seat in the Knesset became an impossibility.
The post-election procedural move was described as "dirty pool" on Netanyahu's part by Feiglin and his supporters.